Walk-in clinics in San Diego for same-day care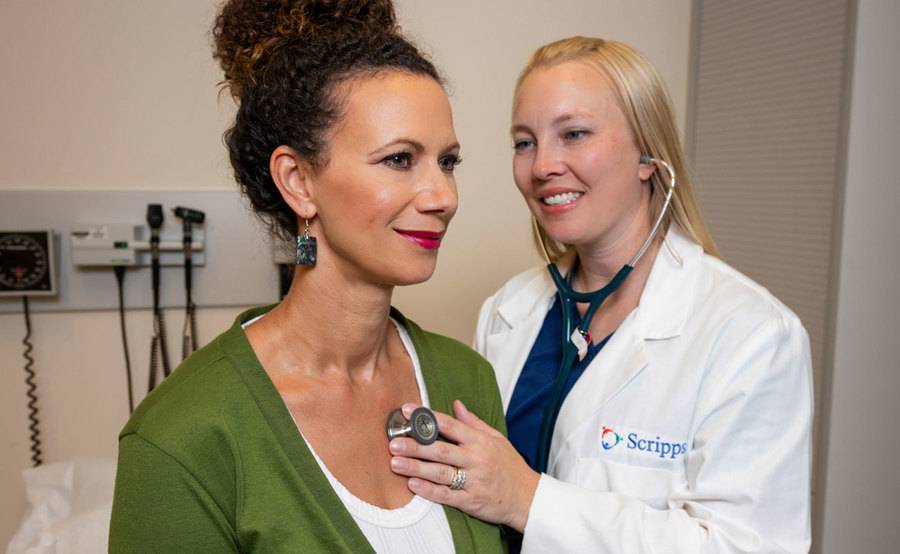 Walk-in clinics in San Diego for same-day care
Minor illnesses and injuries can happen any time. That's why we offer convenient Scripps HealthExpress same-day, walk-in clinics at Scripps Clinic and Scripps Coastal Medical Center locations throughout San Diego County.
HealthExpress provides medical care when you need it the most, from early morning to late in the evening and weekends.
HealthExpress in your neighborhood
HealthExpress walk-in clinics will soon be conveniently located in neighborhoods from North County San Diego to South Bay. Our locations currently include:
By Oct. 1, Scripps HealthExpress will open in the following communities:
Eastlake
Oceanside
Torrey Pines
Mission Valley
Vista
Encinitas
Rancho San Diego  
Why choose Scripps HealthExpress
Why choose Scripps HealthExpress
Walk-in clinic services and payment options
Scripps HealthExpress accepts most health insurance plans, and your visit is billed as a primary care office visit (excluding physicals). If you are paying out-of-pocket or making a co-pay, we accept credit cards, cash and checks.
Services and pricing for adults and kids (5 and over)
Office visit for minor illnesses/injuries - $89 - $129
Urinary tract/bladder infection
Upper respiratory infection
Eye infection/conjunctivitis/stye(s)
Sore/strep throat
Asthma
Allergies
Nausea
Flu symptoms
Cough/bronchitis
Skin conditions (including rash and hives)
Sinus infection/congestion
Mouth/oral conditions
Minor injuries
Vaccinations - $45 - $240
Flu - $45
Flu (high dose) - $70
Tdap (tetanus, diphtheria and pertussis) - $110
Td (tetanus and diphtheria) - $70
Point-of-care testing - $10 - $30 
Tuberculosis - $30
Urine - $10
Pregnancy (urine) - $10
Fingerstick blood sugar - $25
Rapid flu - $20
Rapid strep - $30
If additional testing is required, you will be billed directly by the lab.
Physical examinations - $69
School, camp and sports physicals* 
* Fee at the time of service for all physicals is $69 (not billed to insurance). School physicals are for ages 12 and older only. Sports, camp and school physicals are for clearance purposes only and are not comprehensive, annual preventive well visits. Please visit your primary care provider for your annual physical and well visit. 
Health insurance plans accepted
Aetna 
HMO, EPO, POS, PPO
Beech Street
PPO Network (also known as Concentra, CappCare, PPONext)
Anthem Blue Cross 
HMO (also known as California Care HMO), POS, PPO (also known as Prudent Buyer), Medicare Advantage HMO 
Blue Shield
HMO (includes Covered California), Blue Shield of California PPO (includes Covered California), POS, Medicare Advantage (effective 1/1/2018) 
Choice Care Network 
PPO
Cigna
EPO, HMO, POS, PPO
Coventry
PPO
First Health
PPO
First Health/CCN
PPO
Health Net 
HMO (includes Covered California CommunityCare), POS, Cal MediConnect (Medicare/Medi-Cal HMO Plan) (Scripps Coastal Medical Center only)
Humana Choice Care Network
PPO
Medicare Assignment
MultiPlan
PPO
Private Healthcare Systems (PHCS)
San Diego County Schools Fringe Benefit Consortium
SCAN Health Plan
Medicare Advantage HMO
Scripps Health Plan HMO
Scripps Employee EPO Plan (administered by HealthComp)
TRICARE 
Prime HMO, Prime Remote, Prime Overseas, Prime Remote Overseas, Standard and Extra* (on 1/1/2018 will be replacing this Plan with "Select"), Standard Overseas, For Life, Reserve Select, Retired Reserve, Young Adult
UnitedHealthcare 
HMO (includes Alliance Product), PPO, EPO, NPP, POS, Choice POS, NPPO (Group Retiree Medicare Advantage FFS), Secure Horizons (Medicare Advantage HMO)
Frequently asked questions about walk-in clinics
Learn more about Scripps HealthExpress convenient care clinics in San Diego. 
Do I need an appointment to be seen at HealthExpress?
No, HealthExpress is a walk-in clinic and operates on first-come, first-served system. You can hold your place in line by calling 858-554-7439.
Reserve a time online at the following HealthExpress locations:
What ages are seen at HealthExpress?
HealthExpress sees patients ages 5 and older. Children ages 3 months to 17 years are also seen at pediatric HealthExpress locations at Rancho Bernardo and Carmel Valley.
How do I hold my place in line?
What are the hours of operation?
The following Scripps HealthExpress locations are open Monday-Friday, 7 am - 9 pm, and Saturday and Sunday, 8 am - 5 pm:
The following Scripps HealthExpress pediatric clinics are open Monday-Friday, 5 - 9 pm, and Saturday and Sunday, 8 am - 5 pm:
The following Scripps HealthExpress location is open Monday-Friday, 8 am - 5 pm:
What types of services are offered?
How much does it cost to be seen?
Who staffs the walk-in clinic?
HealthExpress is staffed by highly trained nurse practitioners and physician assistants with physician oversight. Both nurse practitioners and physician assistants are advanced practitioners who diagnose and treat illnesses, and prescribe medications. 
Will HealthExpress work with my existing doctors if necessary?
Yes, we will work with your existing Scripps physicians to coordinate any follow-up that is required. We also provide you with a discharge summary to share with your provider.
How do I obtain my results and medical records?
Scripps patients with a MyScripps account will receive a visit summary and any test results through the secure online patient portal. Visit our medical records page to learn more about requesting the release of health information (medical records) by Scripps Health, or disclosure of that information to someone other than the patient.
Completed authorizations for disclosure of health information can be delivered in person or faxed to 760-633-7747. We will contact you when we receive your form.
Can I fill my prescriptions at HealthExpress?
HealthExpress does not have a pharmacy onsite. We can send prescriptions electronically to your pharmacy of choice or provide a written prescription. We also will send a one-time renewal for non-narcotic and non-restricted medications. 
What if I need to speak to someone after hours with an urgent question or concern?
A HealthExpress triage nurse will be available at 858-554-7439 Monday through Friday 7 am - 9 pm and weekends from 8 am - 5 pm. 
Can I go to HealthExpress for an emergency?
No, Scripps HealthExpress offers care for non-emergency medical needs only. For emergencies, we have four emergency room locations at our hospitals, from La Jolla to Chula Vista. Or you can visit one of our urgent care facilities for non-life-threatening emergencies.
Can I use HealthExpress as my primary care provider?