Notes on Haiti - CEO Journal Part 11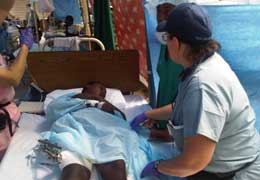 Note: While serving a medical mission to Haiti, Scripps CEO Chris Van Gorder is writing dispatches about medical aid in progress, conditions on the ground and what can be done to help earthquake victims. For other journal entries, see the Haiti news page.
Hello to all at home. As I write this, Dr. Brent Eastman, Rob Sills and I are at the Port-au-Prince airport waiting for our flight back to the States. The airport is an interesting place to be. The terminal is unsafe due to the earthquake, but we have to go through it to get to the tarmac where seats are placed for all of the people leaving. All are on charter flights and some are still trying to find their way out. Military activity is still very heavy. We just saw a C-130 cargo aircraft from Venezuela take off, a Canadian C-17 just land and two vertical lift Ospreys are preparing for take-off. As I look around the airport, I can see DMAT teams leaving, many people in scrubs and some religious humanitarian groups. I don't see many people coming in right now, but many are leaving.
Our team had to split up today because the charter flights we will be taking are not large enough for our full team. So three had to leave today and the rest will come home on Friday. Dr. Steve Shackford told me he will continue my updates — sending me his notes and then I will send to you.
I have to tell you that this hand-picked team was spectacular. I know many volunteered, but we needed to send in a group on this first mission who had very specific qualifications — both medical and disaster experience. Several of our team members — in particular the physicians who joined our SMRT mission for the first time this trip — commented on the team last evening. They thought that the mix of expertise, skills, attitudes and disaster experience was perfect for this mission, and I agree.
We had a bit of a transportation glitch last night as we went back to our compound after having worked all day, and it was a very good day. The vehicles normally used had not been able to get through the traffic, so we only had two pick-up trucks instead. At least four of us had to ride in the back through Port-au-Prince traffic. Well, it was a "Mr. Toad's Wild Ride," and since we all ended up OK, lots of fun too. Only once did Rob Sills have to duck when we were passing on a curve and another car was coming straight at us. Dr. Todd Austin was in the truck behind us and thought it was all over, but no, we swerved as all drivers do here in Haiti, and narrowly missed each other.
This morning, while the majority of the team went to the hospital for their six "scheduled" cases and to find what else would present for the day, Brent, Rob and I went up to Father Rick's Orphanage, about 30 minutes away, up the mountain. What we found at 5,500 feet was very different from the Haiti we had seen thus far on both trips. Trees, some pines, clean air, cool temperatures and a beautiful facility for 350 orphans. We toured the grounds and saw the children, all in an assembly. From what we have seen in Haiti, these children are very lucky — certainly unlucky to have lost their parents, but very lucky to be in such a fine facility.
Well, we will return home soon and we are looking forward to it. I'll personally relax when all of our team members are home late Friday. That is when we will start assessing future missions, which I expect to be smaller, with a changing mix of specialties based on the changing needs of the Haitians, and our ability to support. We held some discussions last night and I expect a step-down hospital to be developed, supported by several health care systems from across the country, so that all can gain experience and none are negatively impacted financially. I think we all work better in broad-based coalitions. The Nuncio has invited us back and has stated he will continue to support our smaller teams when they come to Haiti.
I'll try to put my thoughts together after I return home and get some rest but, until then, let me share a couple of things on my mind:
I feel blessed to be part of an organization with a Board of Trustees, medical staff and staff who not only approve of the work we have been doing, but wholeheartedly embrace it.
We will return to San Diego and Scripps with invaluable learnings, which we can use in planning and education for many years to come.
We will return to San Diego having once again helped in a major humanitarian mission — and our entire organization will be richer for it culturally.
We will return to San Diego having made new friends here in Haiti and also with colleagues and organizations from across the United States.
And we will return to San Diego realizing how fortunate we are to be part of the Scripps organization — with the greatest people in the world.
See you soon.
Chris Van Gorder
See the Haiti news page for other journal entries.