Eighth Annual Scripps Health Quality Summit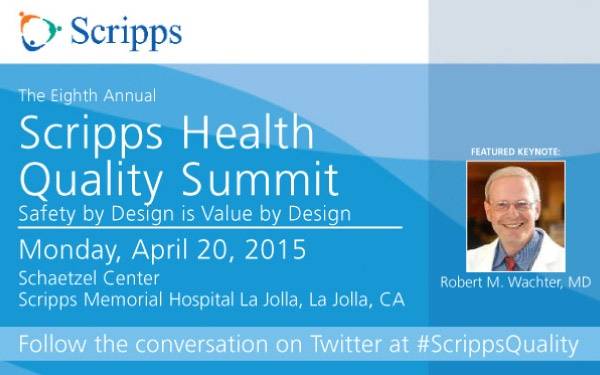 Christopher Jerry lost his beautiful two-year-old daughter, Emily, after a fatal medication error in March of 2006. After the tragic loss, he created The Emily Jerry Foundation to increase public awareness of the systems aspects of medicine, as well as, addressing key patient safety related issues by identifying technology and best practices that are proven to minimize the "human error" component of medicine. Mr. Jerry is a relentless patient safety and caregiver advocate who spreads a message of hope, forgiveness, compassion, collaboration, and how to turn a tragedy into honoring Emily by inspiring positive change in our nation's medical facilities.
When Mr. Jerry first joined the patient safety movement, shortly after his daughter's death, he was simply advocating for the patient. In the past eight years he has learned much about patient safety and the "human error" component of medicine. Over time he has discovered that most all of these issues relating to patient safety are systems related and that in order to effectively make our nation's medical facilities safer for everyone, we all need to join together to positively change the underlying "culture" of medicine in the United States. With that being said, he is now finding himself advocating just as passionately for, you, the caregiver, as well. More importantly, through his advocacy efforts, as well as, the programming of The Emily Jerry Foundation, he is striving to be an active part of the overall "solution" to preventable medical errors, which by recent estimates are now the third leading cause of death in the United States1.
Robert M. Wachter, MD is Professor and Associate Chair of the Department of Medicine at the University of California, San Francisco, where he directs the 60-physician Division of Hospital Medicine. Author of 250 articles and 6 books, he coined the term "hospitalist" in 1996 and is generally considered the "father" of the hospitalist field, the fastest growing specialty in the history of modern medicine. He is past president of the Society of Hospital Medicine and past chair of the American Board of Internal Medicine. In 2004, he received the John M. Eisenberg Award, the nation's top honor in patient safety. In 2015, Modern Healthcare magazine ranked him as the most influential physician-executive in the U.S., his eighth consecutive year in the top 50. His new book is The Digital Doctor: Hope, Hype and Harm at the Dawn of Medicine's Computer Age.
Conference Location & Video Broadcasting Sites
This event will be held at the Schaetzel Center on the campus of Scripps Memorial Hospital La Jolla but will be video broadcasted live to six sites throughout the Scripps system.
Scripps Memorial Hospital La Jolla-Schaetzel Center, Great Hall (Live Event)
Scripps Memorial Hospital Encinitas-Conference Center (Video Conference Site)
Scripps Green Hospital-Timken Amphitheatre (Video Conference Site)
Scripps Mercy Hospital, Chula Vista ampus-Library (Video Conference Site)
Scripps Mercy San Diego Hospital, San Diego Campus-West Auditorium (Video Conference Site)
Scripps Clinic, Rancho Bernardo-Lower Level Conference Room (L108) (Video Conference Site)
Scripps Coastal Medical Center Carlsbad-CB Breakroom (Video Conference Site)
This conference is only open to Scripps employees and Scripps affiliated physicians.
Follow the conversation on Twitter at #ScrippsQuality
Event details

| Date | Time |
| --- | --- |
| Mon, Apr 20th, 2015 - Mon, Apr 20th, 2015 | 7:30 am - 11 am |