Cancer Survivor Enjoying Second Chance at Life
Surviving stage IV non-Hodgkin's lymphoma thanks to new drug innovation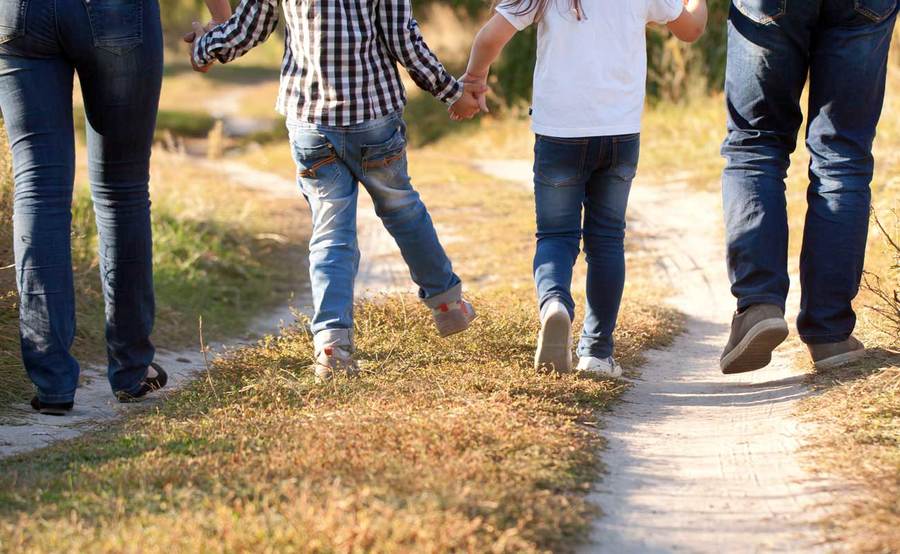 "The first thing to go was my tennis game," says Larry Bartlett, recalling the day he realized he wasn't feeling well. "A friend I always whipped in tennis beat me."
He and his tennis partner, an athletic attorney of 36, reasoned it was "just a matter of not eating right." But a visit to a nutrition specialist revealed that Bartlett had an enlarged spleen, and after further tests his family physician referred him to an oncologist. That day in December 1989, Bartlett had a premonition.
"I thought I'd be losing my hair, so I had it cut short," he said.
Then, before seeing the oncologist, his deteriorating condition so alarmed his secretary that she took him to the ER. Within a matter of hours he was diagnosed with stage IV Non-Hodgkin lymphoma. Initial reports indicated cancer in his bone marrow, around the heart and throughout connective tissue around the intestines. His recovery chances were a dismal 30 percent. He'd later learn his oncologist believed he wouldn't even survive three weeks of chemotherapy.
Battling against Non-Hodgkin lymphoma
Bartlett was stunned.
"There I was, somebody who went from no problems one week to stage IV lymphoma the next," he says. "It was a real life lesson. Don't keep score too early."
Thus began a 12-year saga during which Bartlett has learned many life lessons. For his first chemotherapy session, he showed up in an Israeli Army uniform he'd brought back from a trip to Israel.
"I thought, 'If it's going to be a fight, I'm showing up to fight,'" he says.
That battle-ready spirit sustained him during a rugged 12-week chemotherapy regimen.
"I would get chemo on Fridays, be laid up on the weekend, and could work from Tuesday until the next treatment," he says.
He lost weight and his hair follicles bled from every orifice. Then the bachelor was told the treatment that might save him would also render him infertile.
"I was a mess," he says.
But through the pain, the side effects and the uncertain future, Bartlett made a bow.
"If there was any way I could be in the 30 percent of survivors, I was going to be," he says. When the series ended in the spring of 1990, cancer cells remained in his bone marrow. He was devastated.
New hope through clinical trials
While waiting to begin a second round of "chemo cocktails," Bartlett saw a hopeful article in The San Diego Union-Tribune. Doctors conducting clinical trials at Scripps Cancer Center expressed cautious optimism about a new drug for hairy cell leukemia.
Having heard that leukemia and lymphoma were like "identical twins," Bartlett met with doctors at Scripps Cancer Center.
At that time, the drug 2-CdA — now approved by the FDA — was still experimental, but it had exciting preliminary data.
Bartlett needed to make a decision — more chemo or 2-CdA? He opted for the latter. Administered via catheter, 2-CdA was given in a one-week-on, three-weeks-off series. With each course, Bartlett felt better.
During these early weeks, a significant subplot began in Bartlett's life.
"I met Jodi," he says.
The Los Angeles fitness instructor and the San Diego attorney began to date.
"I wasn't in remission, but Jodi signed on anyway," Bartlett says. On Feb. 14, 1991, Bartlett learned he was in remission. He confided in his oncologist; he wanted to ask Jodi to marry him, but even with this good news, what were his chances?
"He told me, 'Everybody has something — money problems, issues with in-laws, worries with work or health problems," he says. "'You'll manage. Don't let life pass you by.'"
Celebrating cancer research and treatment
Eleven years later, life for Larry Bartlett is a series of celebrations. April 18 — the day he learned of Scripps' commitment to cancer research and treatment and its ground-breaking work with 2-CdA — is a special family day.
Larry and Jodi married on Nov. 3, 1991. And in December 1999, 10 years to the month after the original diagnosis, "we had our daughter, Amber," says the proud father.
Final postscript for cancer survivor
"In 1991, my wife and I found a house for sale in our neighborhood," he says. "Built two years earlier, for some unknown reason it had never been lived in."
When they walked through, Bartlett noted the building inspector's compliance list still attached to the wall. All the approval checks were dated between December 1989 and April 1990.
"I thought, 'This house was built during a time I was steeped in worry,'" Bartlett says. "Here was a house in heaven built for me."
The Bartlett family has been "home for the holidays" ever since.