Discover the Rewards of Volunteering!
Volunteering at a Scripps Health location can be a meaningful, enriching experience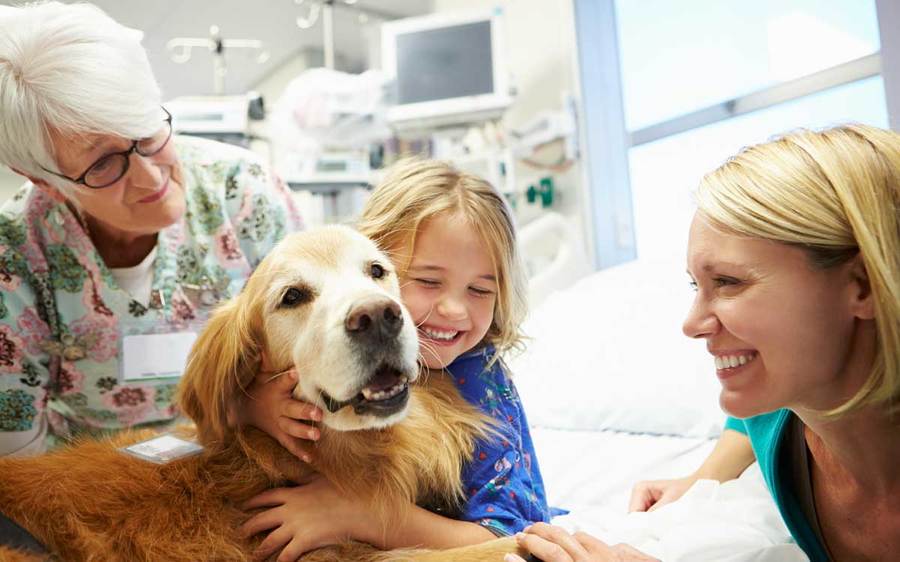 by Susan Vandendriesse
Brighten a patient's day by delivering flowers, cards or books. Help nurses at the patient bedside, assisting family and friends of patients. Follow up with patients after they've been discharged. Lead tours of the Sculpture Garden. Knit cozy beanies and blankets for babies. Clear a path for the madly wagging tail of a therapy dog on a patient visit.
These are just a few things hospital volunteers do to make the lives of patients, medical professionals and employees easier every day. In addition to helping others, volunteers themselves often benefit from "giving back" to the communities in which they live and work, and enjoy a gratifying sense of doing something good for someone else.
Rewarding reasons to volunteer
Every year, National Volunteer Week celebrates those volunteers who donate their time and effort to an almost endless list of causes. At Scripps Memorial Hospital La Jolla, we acknowledge and thank our 600 volunteers with a full week of special events, recognition ceremonies, educational activities, and "freebies" from the gift shop and cafeteria. Moreover, individual departments often have their own celebrations.
Yet the most rewarding reasons to volunteer cannot be measured. As a volunteer, you gain valuable experience, learn new skills, make friends and meet others who share the same values and interests. Plus, you can learn about the exciting field of health care and keep up on the latest trends and medical procedures.
Perhaps the greatest reward of all is the patient's appreciation. A warm smile or encouraging word can mean as much to a patient or worried family member as the services you provide. Most hospitals, including Scripps La Jolla, offer training in a variety of areas in a professional, friendly environment to make you feel comfortable and confident. After all, we want our volunteers to be successful!
Additionally, volunteers often receive additional benefits, such as free parking, participation in wellness programs (including immunizations), and invitations to special events throughout the year.
How much time does it take to volunteer? The simple answer is: as much as you'd like to give. We have volunteers who give a several hours a week, and others who give dozens. Several volunteers have given over 20,000 hours of service.
Here are just some of the many volunteer opportunities available at hospitals:
Clerical Support
Educational Tours
Emergency Room
Fundraising
Gift Shop
Information Desk/Reception
Librarian/Library Cart
Messenger
Nursing Floor Assistant
Patient Follow-Up
Patient Transport
Receptionist
Rehabilitation Program
Scholarship Committee
Spiritual Care
Visitor Assistance
Waiting Room
Check with your local hospital to determine their volunteer requirements. At Scripps, we look for men and women age 15 and older. We have 21 volunteers over 85 years old, and our oldest volunteer is 92! Our volunteers include homemakers, part-time workers, retired persons and seniors. Scripps La Jolla also has a "Junior Volunteers" program for high school students; currently, we have 75 high school volunteers. Volunteers should be willing to make a commitment to volunteering at least three to four hours a week.
After an initial interview and health screening, we assign volunteers to an area of their choice, where they receive an orientation and training. In addition, we offer ongoing training programs and continuing education to help volunteers remain efficient and effective.
This Scripps Health and Wellness information was provided by Susan Vandendriesse, manager of the volunteer program at Scripps Memorial Hospital La Jolla.