Dr. Eric Topol Named Gary and Mary West Chair of Innovative Medicine
Endowment to Scripps Health announced to advance wireless health care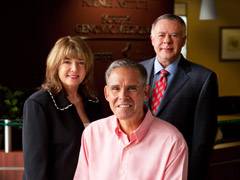 San Diego – The Gary and Mary West Foundation has made a $5 million endowment to Scripps Health to establish the Gary and Mary West Chair of Innovative Medicine. Eric J. Topol, M.D., chief academic officer of Scripps Health and director of Scripps Translational Science Institute, has been named the inaugural chair. In addition, Dr. Topol has been recently appointed to the board of directors of the newly formed West Wireless Health Institute.
"I am honored to be named as the Gary and Mary West Chair of Innovative Medicine," says Dr. Eric J. Topol. "Through the development of wireless technologies, there is an extraordinary opportunity to change the future of medicine in an unprecedented way.
As medicine focuses on digital technology and the use of wireless sensors to elegantly track individual patient data, the opportunities for better prevention and treatment are limitless."
The Gary and Mary West Foundation announced in March the creation of the West Wireless Health Institute, the first medical research and education organization fully dedicated to advancing health and well being through the use of wireless technologies. Scripps Health is the founding health care affiliate, with Qualcomm as a founding sponsor. The Institute is headquartered in San Diego, California, the global hub for wireless life science research and development.
"Dr. Topol and the Institute's research team will conduct clinical research on potential wireless technologies that offer exceptional promise for improving health care across the full gamut of medical conditions, " says Gary West, founder and chair of the Institute's board of directors. "Through clinical trials, we'll be able to develop medical devices that not only improve the existing level of care, but are safe, reliable, and cost effective."
"Scripps is continually looking to advance innovations to improve the care we provide to our patients," says Chris Van Gorder, Scripps president and chief executive officer. "Through this endowment and our collaboration with the West Wireless Health Institute, we are poised to revolutionize health care by accelerating the understanding and application of wireless medicine."
Founded in 1924 by philanthropist Ellen Browning Scripps, Scripps Health is a $2 billion nonprofit community health system based in San Diego, Calif. Scripps treats a half-million patients annually through the dedication of 2,600 affiliated physicians and 12,700 employees among its five acute-care hospital campuses, home health care services, and an ambulatory care network of clinics, physician offices and outpatient centers.
Recognized as a leader in the prevention, diagnosis, and treatment of disease, Scripps is also at the forefront of clinical research and graduate medical education.
About the West Wireless Health Institute
The West Wireless Health Institute is one of the first medical research organizations in the world supporting the exploration and application of wireless technologies to advance human health and well-being. Along with Scripps Health and Qualcomm, the Institute is fostering an unprecedented convergence of science, medicine, engineering and technology to change the way health care is delivered. The West Wireless Health Institute is based in San Diego, California.
Contact: Laura Dennison
Phone: 858-678-7171
E-mail: dennison.laura@scrippshealth.org