A Priceless Gift: Living Organ Donors Give of Themselves
A generous living kidney organ donation changes one man's life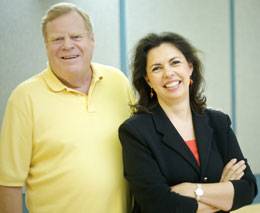 Karny Stefan was relaxing at home, watching a movie, when she received the e-mail that would change her life — and save Jeff Wilson's. The e-mail was from Christy Wilson, a business colleague who Karny knew distantly through her job as CEO of Walden Family Services.
Christy's husband of 23 years, Jeff, urgently needed a kidney transplant. He would not survive long enough to make it to the top of the transplant list, so the Wilsons were looking for a living donor.
As Karny considered this request, the next line in the movie was, "You know, I was pretty close to your grandfather. I do have one of his kidneys."
"I thought, you have got to be kidding me," Karny recalls. "I knew then that I had to do it."
Eight months later, Jeff Wilson received one of Karny's kidneys.
Searching for a kidney donor
At age 60, Jeff Wilson had a trifecta of problems that led to kidney failure: age, high blood pressure and diabetes. Moreover, with type O negative blood, Jeff could donate to anyone, but could receive organs only from a type O donor.
These factors combined to put him 7 to 10 years out on the transplant wait list — and with less than 10 percent of his kidney function remaining, Jeff couldn't wait that long.
"There are two types of kidney donors, cadaveric and living, and there are not enough cadaveric donors available to meet the need for donations," explains Christopher Marsh, MD, chief of transplant surgery at Scripps Center for Organ and Cell Transplantation. "And, as the incidence of chronic kidney disease continues to grow among the U.S. population, so does the waiting list."
The Wilsons felt the only logical step was to try to find a donor on their own. Christy, executive director of the Rancho Santa Fe Foundation and a member of Circle of Life 100 at Scripps Memorial Hospital Encinitas, embarked on a massive e-mail campaign, sending out a request for volunteers to everyone she knew.
"We got a hundred or so e-mails from people telling us that they would help if they were the right blood type or didn't have family who might require a kidney from them one day," recalls Christy. "But we only had four serious donors step forward — two who ultimately felt that they should keep their kidneys for their children, and one who never really began the testing because Karny stepped forward and was so sure that she was to be the donor."
Successful laparoscopic kidney transplant
There are six genetic markers that, ideally, will match between donor and recipient. One is considered a good match. Jeff and Karny had three. Dr. Marsh and the Scripps transplant team performed the transplant in April of 2009.
Jeff spent about four days in the hospital. Karny's kidney was removed laparoscopically; she was in the hospital for just two days, but the change she saw in Jeff was immediate.
"The morning after surgery, I asked a friend to take me to the intensive care unit. I saw Jeff and our faces just lit up. It was the first time I had ever seen color in his face," Karny recalls, tearing up. "And, Christy looked at me and said, 'I have my husband back,' and that was the best part."
Today, Jeff works out at the gym, spends time with friends, serves on the Community Advisory Board for Scripps Encinitas, and is looking forward to college football games and trips with his wife. And Karny? Because she had to lose about 10 pounds before the transplant, her kidney function is actually better with one kidney than it was with two.
Living donors still needed today
Last year, Scripps Center for Organ and Cell Transplantation performed 30 kidney transplants; seven kidneys were from living donors. So far this year, there have been eight living donors. The program also performs liver, living liver, and pancreas transplants.
"Living donors are usually family members, so this was unusual in that someone donated out of pure altruism," says Dr. Marsh. "If more people stepped forward like this, we could substantially increase transplants and reduce the waiting list. People need to know that they can donate a kidney and still have normal function for the rest of their lives."
Karny is living proof that live donors can give organs and still function as well — or better — than before.
"I think what people need to know is that it's very easy. There is a lot of testing, but the actual surgery is easy," she says. "I don't have children, I'm healthy, I didn't have any reason not to do this. And, I think there are a lot of people like me. Why wouldn't you?"