Padres Announcer Joins Study to Help Unravel Secrets of Lifelong Health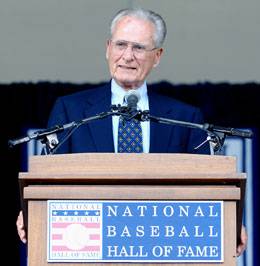 Padres announcer Jerry Coleman has worn many hats during his lifetime. World Series MVP. World War II hero. Hall of Fame broadcaster.
But his foray into the world of scientific research may ultimately have the most profound effect of all.
Coleman, 85, recently enrolled in the "Wellderly Study", a cutting-edge genetic research program at Scripps Health. Scripps researchers are studying the DNA of the healthy elderly – those 80 and older with no history of chronic disease – to help unlock the genetic secrets behind lifelong health.
"We all carry genes that make us susceptible to diseases," says Dr. Eric Topol, Scripps' chief academic officer and the study's principal investigator. "But some people have modifier genes that cancel out their risk. It's nature's way of protecting them. These so-called 'wellderly' are harboring the secrets of good health."
Coleman is among the 850 volunteers who have already enrolled in the Wellderly Study, but hundreds more are still needed. Enrollment involves a brief health assessment and a one-time blood or saliva sample. More information is available by calling 1-800-SCRIPPS.
Looking at the genes of healthy elderly people is a novel approach to understanding the biology of health. To date, medical research has largely neglected the genetics of health, instead focusing on genetic markers of disease. Scripps seeks to understand the mechanisms that help keep people healthy and protected from disease, and then translate key discoveries into improvements in patient care.
Coleman believes lifestyle plays a role in his good health, too.
"I walk my German shepherd Gus five miles every day," says Coleman, a non-smoker who drinks only occasionally. "And I've always had some goal in my life to shoot for, not a lot of party time. I think the most important thing for anyone is to have a goal to keep you going, so you don't just drift around."
Dr. Harry Albers is Coleman's primary care physician and a member of the Padres medical staff from Scripps Clinic. "Jerry does his part by eating right, getting plenty of exercise and keeping his mind sharp," Dr. Albers says. "He's the poster child for exercising the mind as much as the body, which is so important as we get older."