Teen's Life Saved Twice in One Day
After having a massive stroke, immediate intervention helps Claire Cordua survive
For 18-year-old Claire Cordua, having a stroke was the furthest thing from her mind. Having just graduated from high school, Claire was enjoying a leisurely summer hanging out with friends, tutoring, babysitting and getting ready to head off to college.
All that changed on July 17, when Claire suffered a massive stroke. Her life was saved twice that day — once by her quick-thinking boyfriend and, then again, by a new Scripps Memorial Hospital La Jolla physician who had yet to officially start work at the hospital.
Medical intervention for a threatening blood clot
On that fateful Friday, Claire and her boyfriend, 17-year-old Chris Price, were on their way to the beach in La Jolla. Claire was driving when a blood clot struck her brain and she lost control of the car.
As she swerved over the median, Chris grabbed the steering wheel and was able to safely stop the car on the side of the road to call 9-1-1.
But the danger was not over for Claire. She needed immediate intervention to prevent the blood clot from causing permanent damage or death.
After the car accident, paramedics brought Claire to Scripps La Jolla, one of the county's designated stroke centers. Neurologist Frederick de la Vega, MD, confirmed the blood clot in Claire's brain and a call was made to Giuseppe Ammirati, MD.
Coincidentally, Dr. Ammirati, a neurointerventional radiologist, was at the hospital picking up his identification badge to begin work at the hospital on the following Monday. Though he had just left, he turned his car around and started his new job a few days early.
Neurointerventional radiologist saves the day
Just before Claire's stroke, Dr. Ammirati and his partner, John Barr, MD, affiliated with Scripps La Jolla to re-establish the hospital's neurointerventional program. In the past, conditions like Claire's, as well as aneurysms and tumors of the head, brain, neck and spine, would have required open surgery.
Neurointerventional radiologists, such as Dr. Ammirati, can now perform minimally invasive treatments using tiny catheters and X-ray guidance to reach the problem.
With the clock ticking and only a seven-hour window of opportunity to surgically remove
Claire's blood clot, Dr. Ammirati set to work performing an intra-arterial thrombolysis and mechanical thrombectomy — a highly specialized procedure in which only a handful of San Diego physicians have been trained.
In the procedure, a catheter was inserted through a nick in her skin at the groin and, using X-ray guidance, advanced through the femoral artery in the leg, all they way to the tiny arteries in the brain. Once there, Dr. Ammirati placed a clot-busting drug directly on the clot and then broke up the clot mechanically.
Recovering with a new appreciation for life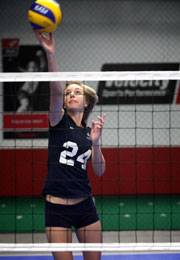 Doctors at Scripps La Jolla say that a stroke in such a young person is "very rare." They attribute Claire's blood clot to several factors, including a minor pre-existing heart condition, medication and a recent plane trip in which Claire traveled to Rhodes College in Tennessee.
She was set to start school there in the fall thanks to a volleyball scholarship. She's now focusing on her recovery and has postponed college until January.
"It never even occurred to me that I could have a stroke," says Claire. "This experience has taught me how precious life really is and how truly fortunate I am."