New Scripps Cancer Facility to Offer Advanced Treatments at Single Location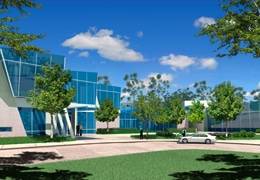 Scripps Cancer Center's new, state-of-the-art radiation oncology treatment center will consolidate into a single location our existing radiation oncology treatment programs at Scripps Green Hospital and Scripps Memorial Hospital La Jolla. Located adjacent to Scripps Green Hospital, cancer patients throughout our Scripps system will have access to the most advanced radiation oncology treatments available – all in one comprehensive center to make best possible use of community resources, enhance our efficiencies and provide the highest quality care.
This year, 1.6 million Americans will receive life-changing news: a cancer diagnosis. According to the American Cancer Society, that number includes nearly 134,000 Californians. That's more than 15 new cancer cases every hour of every day, perhaps including people you know and love.
Fortunately, cancer is more survivable today than ever before, thanks to early detection and medical innovations. At Scripps Cancer Center, we are proud to provide our patients with the most advanced medical treatments and support services to help them focus on life – beyond their diagnosis.
We will develop a $43.9 million, state-of-the-art radiation oncology research and treatment center that will consolidate our existing radiation oncology treatment programs at Scripps Green Hospital and Scripps Memorial Hospital La Jolla into a single location. The two-story, 41,669-square-foot center will be a vital resource for Scripps cancer patients in need of radiation oncology treatment.
The center will feature innovative technology, including three powerful and precise linear accelerators. Two linear accelerators will use image-guided radiation therapy to capture CT and X-ray images on a daily basis and identify the position of tumors just before treatment begins. The increased precision allows higher doses of radiation and reduces treatment times, in many cases, from 15 minutes to less than three minutes.
A third linear accelerator will help our physicians perform a sophisticated radiation therapy technique called stereotactic radiosurgery. Stereotactic radiosurgery is a non-invasive alternative for patients with a variety of conditions, including brain and neck tumors, and breast, colon, lung and prostate cancers. The perfectly timed beams deliver radiation with accuracy down to a millimeter to treat deep-seated tumors, while effectively reducing doses to healthy surrounding tissue and reducing side effects. In most cases, this course of radiation therapy can be shortened from a traditional eight weeks to a few days.
Scripps has long been a leader in providing cancer care in San Diego. It opened the county's first blood and marrow transplantation program in 1980, and during the past 30 years the program's patient survival rate has doubled. Scripps' robotic surgery program currently offers patients the widest range of options in San Diego. And, as the first multi-hospital cancer program in California and one of only 28 nationally to earn network accreditation from the American College of Surgeons' Commission on Cancer, Scripps Cancer center will build upon our commitment to medical excellence and quality cancer care.
With support from generous donors, like you, Scripps Cancer Center's radiation oncology research and treatment center will be a beacon for people with cancer, and those who love them. Your gift will touch thousands of lives year after year, as you help to make cancer treatment much more convenient, much less difficult, and even more effective. It will also be the catalyst for increased enrollment in clinical trials, and expand educational programs that will train future cancer specialists.
To learn about how you can support Scripps Cancer Center's radiation oncology research and treatment center, please call 858-554-3046 or visit www.scrippshealthfoundation.org.