John Trombold, MD, Honored at Scripps' 10th Annual Friends of the Hospital Luncheon
Early diagnosis of aplastic anemia inspired Scripps physician to become a hematologist/oncologist
For most young patients, being diagnosed with a serious illness or disease can be a frightening and helpless experience. For John Trombold, MD, an early diagnosis of a potentially fatal blood condition motivated him to become a physician.
Dr. Trombold was only 17 and a student at the University of Kansas when he was diagnosed with aplastic anemia and learned firsthand how apprehensive and scared patients can feel when they receive a cancer diagnosis and undergo treatment.
He resolved to become a hematologist/oncologist and dedicate himself to making his patients feel comfortable and supported. After graduating from the University of Kansas Medical School in 1958, Dr. Trombold began a long and illustrious career as a physician in San Diego.
Establishing the Scripps Cancer Center
In 1976, Dr. Trombold helped establish Scripps Cancer Center, Stevens Division, for cancer patients at Scripps Memorial Hospital La Jolla. As founding medical director, Dr. Trombold used his insight as a patient to promote open communication and collaboration between patients and their caregivers.
"Forming the cancer center, gathering support, raising funds from the generous San Diego community, and employing the right personnel creates a comprehensive approach to cancer care that is both comforting and effective," Dr. Trombold says. "It's an honor to have made an impact in the lives of others."
Fundraising for cancer care
Dr. Trombold also works diligently behind-the-scenes as an avid fundraiser for Scripps Cancer Center, Stevens Division. He spearheaded, among other initiatives, the successful annual Spinoff auction, which has raised millions of dollars since its inception.
On Jan. 28, 2010, Dr. Trombold was honored with a Lifetime Achievement Award during Scripps Memorial Hospital La Jolla and Scripps Health Foundation's 10th Annual Friends of the Hospital luncheon. The award recognized his tireless commitment to exceptional patient care.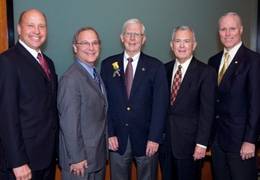 Dr. Trombold (center) is pictured with John Engle, corporate senior vice president and chief development officer of Scripps Health, Gary Fybel, chief executive and senior vice president of Scripps Memorial Hospital La Jolla, Ames Early, former president and CEO of Scripps Health, and Chris Van Gorder, president and CEO of Scripps Health.