Woman Donates Home to Help Support Scripps
After decades of nurturing Scripps Health, longtime volunteer Burl Mackenzie gives again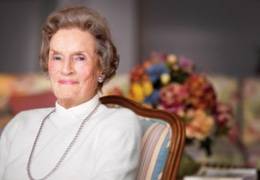 It was more than 50 years ago when Burl Mackenzie first walked through the doors of Scripps and Scripps Clinic. Back then she was new to La Jolla, and Scripps was so much a part of the community that it just seemed natural to get more involved.
In 2007, her lifelong involvement reached a pinnacle with the donation of her family home to support the Scripps Clinic Division of Cardiology.
"Donating our home was not a difficult thing to do," says Mrs. Mackenzie. "When you're around the hospital and you see people who are suffering, who are in deep trouble, it makes you feel very good that you can help a little bit."
Giving back to the community
Mrs. Mackenzie has been a long-time supporter of Scripps. She has devoted her time to serving on a list of boards and committees, visiting patients and making sure they have a positive experience.
She was celebrated with a special hybrid miniature rose that was named in her honor — the Burl H. Mackenzie rose — at the Fifth Annual Renaissance Ball in March 2007 to benefit Scripps Green Hospital and Scripps Clinic. It was the perfect gift for the former Kansas girl who still loves to nurture her garden.
"I've learned so much helping others at Scripps. I feel that I learned more — and have appreciated more — than I have given," says Mrs. Mackenzie. "It's just a pleasure to be able to give back."