Scripps Honors Anita Figueredo, MD, for Her Commitment to Charitable Care
Scripps Health honors beloved oncologist and philanthropist Anita Figueredo, MD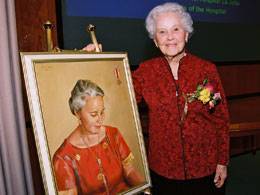 Honoring a lifelong commitment to providing exceptional medical care, Scripps Health Foundation recognized Anita Figueredo, MD, during its Ninth Annual Friends of the Hospital luncheon Jan. 28, 2009.
Dr. Figueredo was presented with Scripps Memorial Hospital La Jolla's Lifetime Achievement Award for her unyielding dedication to care for the less fortunate.
Skilled oncologist, avid philanthropist
A surgical oncologist, Dr. Figueredo has been practicing medicine in La Jolla since 1947, when she became the first female surgeon in San Diego. In addition to her medical accomplishments, Dr. Figueredo is an avid philanthropist.
A devoted member of the Catholic church, Dr. Figueredo dedicates much of her time and energy to its charitable activities and has worked closely with Mother Teresa to benefit numerous organizations around the world.
Dr. Figueredo is also the founder of Friends of the Poor, a nonprofit organization founded to improve the lives of disadvantaged individuals in Mexico and beyond. She credits compassion and empathy as two of the driving forces that compelled her to start the organization.
Dr. Figueredo and special guests reflect on her career, and lifelong commitment to serving others.