Pocket-Sized Device at Scripps Helps to Quickly Diagnose a Runner's Heart Attack
Wireless ultrasound provided a window to Debbie Lanpheer's heart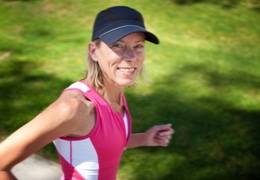 Debbie Lanpheer doesn't slow down. An avid runner for more than 25 years, Debbie looks forward to an hour-long run almost every day.
Add to that, a busy lifestyle as a wife and mother of two young children, and the 49 year old is on the go from morning to night. When Debbie recently experienced chest pain and discomfort a few hours after one of her runs, a new wireless ultrasound device quickly aided Scripps cardiologists in determining she suffered a heart attack.
"It was a window to my heart," says Debbie, who is also a former registered nurse at Scripps Green Hospital. "I was amazed when the cardiologist reached into her pocket and pulled out the device. It was a mini-echocardiogram the size of a cell phone that fit right in the palm of her hand."
Screening tool leads to echocardiogram and cardiac catheterization
Scripps Green Hospital is the first of 12 clinical sites in the world to preview the technology to see if the new, pocket-sized ultrasound device, called a Vscan, will help speed diagnoses, reduce patient wait times and improve physician work flow.
"In Debbie's case, I could see there was not enough blood flow to her heart, which coupled with her symptoms, were clear indicators of a heart attack," says Rachel Israel, a cardiology fellow. "Use of the Vscan technology during her initial exam prompted a more formal evaluation with an echocardiogram. It allowed her physicians to quickly and accurately make a diagnosis, and begin treatment."
Debbie was admitted to the hospital and underwent a cardiac catheterization procedure the next day.
"The Vscan is an innovative screening tool," says David Rubenson, MD, director of Scripps Green Hospital's cardiac non-invasive laboratory. "It does not replace current technology, but allows us to be selective and efficient in identifying when a patient needs an echocardiogram. That saves time and reduces costs."
For Debbie, the rapid pace of discovery has accelerated her treatment — and now recovery.
"Thanks to Scripps, I am back on the run," she says.