Man's Sight Saved After Free Screening Catches a Serious Diabetes Complication
Timely treatment allows Ricardo Hernandez to see his granddaughter for the very first time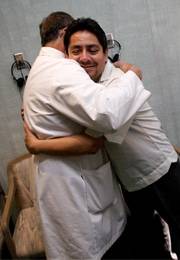 For more than seven years, Ricardo Hernandez endured significant deterioration in his eyesight as a result of his diabetes.
Deeply concerned that he would permanently lose his vision, the National City resident learned about a free retinal screening program offered at a nearby community clinic, supported by Scripps Whittier Diabetes Institute.
When ophthalmologist Paul Tornambe, MD, and George Hayes, manager of Scripps Whittier's mobile medical unit, met Ricardo, they recognized the urgency of his situation. Ricardo had severe retinopathy and clinically significant macular edema, which if left untreated, would lead to blindness.
Successful retinal vitrectomy surgery
The team immediately began a series of treatments to save Ricardo's vision.
"Each time I had a treatment, I felt a little better," says Ricardo. "I believed the doctors were going to save my eyesight — and my livelihood. If I went blind, there would be no way I could support my wife, my children and my grandchildren."
Because of the severity of Ricardo's case, he also needed retinal vitrectomy surgery. Through the collaboration of Scripps leaders, physicians and staff, Dr. Tornambe successfully performed the surgery at Scripps Memorial Hospital La Jolla.
Post-surgery, a new outlook on life
More than 100 patients receive retinal screenings each month through the Scripps Whittier Diabetes program. The program is made possible by contributions from Blue Shield of California, Fonseca Foundations and Scripps Community Benefit Program.
"Words cannot express my gratitude," says Ricardo. "After the surgery, I was able to experience one of my greatest joys — to see my beautiful granddaughter for the very first time."