Advice at Speaker Series Results in Man's Early Cancer Detection
One man's colonoscopy leads to early detection of pre-cancerous polyp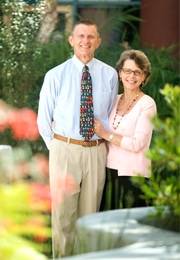 It all started with a little neighborly advice — advice that potentially saved Vytas Tarulis' life.
During a friendly chat with his neighbor, a volunteer at Scripps Memorial Hospital Encinitas, Vytas learned about the Scripps Memorial Hospital Encinitas Distinguished Speaker Series hosted by Scripps Health Foundation.
The series includes monthly presentations from Scripps Encinitas physicians, featuring health information to help our community maintain and enhance wellness.
Gastroenterologist's presentation leads to action
Following his friend's recommendation, Vytas and his wife, Vicky, attended a presentation about the latest screening and treatment options for colon cancer, featuring Robert Goldklang, MD, a gastroenterologist at Scripps Encinitas.
"This was our first time attending one of these events and Dr. Goldklang really impressed us," says Vytas. "His presentation was very professional and informative — so much so that it made me realize I was at risk and about a year overdue for a repeat colonoscopy."
He immediately contacted Dr. Goldklang's office to set an appointment.
"This was my first experience at Scripps Encinitas and I couldn't have asked for better care," says Vytas.
Early detection of pre-cancerous polyp
During the colonoscopy, Dr. Goldklang discovered a pre-cancerous polyp. Once discovered, endoscopy was used to remove the significant lesion without the need for invasive surgery.
"Vytas is very fortunate," says Dr. Goldklang. "Had the lesion not been found, it likely would have been one to three years before symptoms of an advanced cancer would have presented – at which point therapy and survivability may have been limited."
Today, Vytas and Vicky are regular attendees at the Scripps Memorial Hospital Encinitas Distinguished Speaker Series.
"The presentations are an asset to the community and, as I now know, they can be lifesaving," says Vytas.