Dr. Eric Topol Addresses 'Digital Native' Graduates of Baylor College of Medicine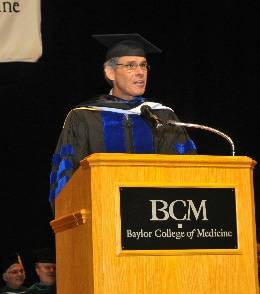 This year's medical school graduates will witness a health-care world transformed by genetic sequencing, wireless biosensors, cloud computing and online social networks as their new careers unfold, predicted Eric Topol, MD during the Baylor College of Medicine's 2012 commencement ceremony this week.
The Scripps Health cardiologist, geneticist and chief academic officer said the digitization of humans will let physicians treat each individual patient with specialized care instead of using drugs and screenings that were developed for millions but work best in only a fraction of those who receive them.
"You are the next generation of leading physicians and scientists in a new era of medicine, and you are all digital natives," Dr. Topol told the 206 graduates who gathered for the Tuesday evening ceremony in the Jesse H. Jones Hall for Performing Arts in downtown Houston.
"Your role will be progressively morphed into providing guidance, wisdom and experience on how to transform data and information to knowledge and judgment," he said. "A new emerging partnership in medicine without the historic information asymmetry. Without the high priest's, paternalism and doctor-knows-best attitude."
Dr. Topol offered a lighthearted apology to the graduates for giving each of them a printed, autographed copy of his book "The Creative Destruction of Medicine" rather than an electronic version that could be read on a smartphone or tablet device.
"The world isn't quite ready for that," he said. "There is no way to gift a digital book yet, and I couldn't have signed it."
Honorary degree in medicine
Before his address, Dr. Topol received an honorary doctor of letters in medicine degree from the college, which is home to the Human Genome Sequencing Center that played a key role in the federal government's Human Genome Project.
"Dr. Topol is clearly one of the most innovative physician scientists today," said Dr. Paul Klotman, president and chief executive officer of the college. "His development of new technologies to enhance the practice of medicine will have a lasting impact on both translational research and the care of patients. We will all benefit from his pioneering work."
Founded in 1900, Baylor College of Medicine is located in Houston's 1,000-acre Texas Medical Center and enrolls about 330 students. The college is ranked among the top 25 medical schools for research by U.S. News & World Report.
Dr. Topol urged the graduates to remain rooted in the values that have buttressed medicine for centuries.
"Even though we have this exciting time in medicine with radical innovation, we need doctors with compassion, empathy and bedside manner, who are great communicators and have a healing touch," he said. "Those qualities will be all the more important in the digital medical era when we need to avoid treating the scan, the DNA, the lab test and the biosensor data — to treat the patient."
About Scripps Health
Learn more about Scripps Health, a nonprofit integrated health system based in San Diego, Calif.