Researchers at Scripps to Study Possible New Treatment for Parkinson's Disease
Researchers reprogramming skin cells into dopamine-producing brain cells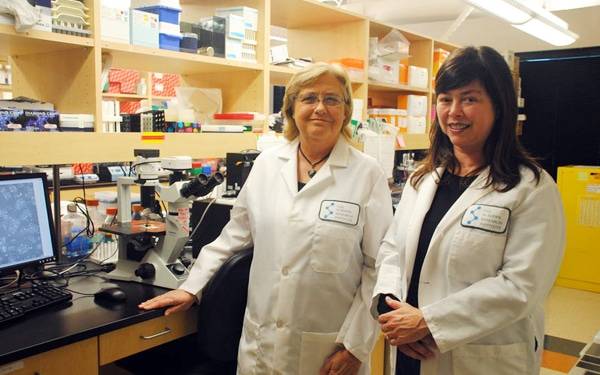 Scripps Clinic, in partnership with The Scripps Research Institute (TSRI), has begun the research phase of a proposed clinical trial using induced pluripotent stem cells to halt or reverse the effects of Parkinson's disease.
Under the leadership of Melissa Houser, MD, neurologist and medical director of Scripps Clinic's Parkinson's Disease and Movement Disorders Center, and co-investigator Jeanne F. Loring, PhD, professor and director of the Center for Regenerative Medicine at TSRI, skin cells taken from Parkinson's disease patients who meet select criteria are being cultivated in vitro and turned into pluripotent stem cells. These stem cells will be developed into dopamine-producing brain cells.
The plans, which will require Food and Drug Administration (FDA) approval, are to implant these cells back into the donor patients' brains; the goal is for the cells to integrate inside the brain and produce enough dopamine to alleviate the worst symptoms of Parkinson's disease. There are currently several clinical trials using pluripotent stem cells to replace cells lost to injury or neurodegenerative disease, as well as for the development of pharmaceuticals, but reimplantation of cells into the same patient for function restoration as a treatment for Parkinson's disease has never been attempted.
"What sets our study apart from many others is that it's patient-specific," said Dr. Houser. "That means our patients who initially donated their skin cells will eventually receive their own cells again, with their own DNA, just in a different form. Our hope is that this will slow or stop the progression of Parkinson's disease while minimizing the potential for rejection."
Stem cells are unspecialized cells that can regenerate and can be directed to convert into specific tissue or organ cells with specialized functions.
"The word 'pluripotent' means that the cells can turn into any other kind of cell," said Dr. Loring. "We're converting adult cells taken from skin samples into pluripotent stem cells. These simple skin cells are now in the middle of a remarkable journey toward becoming nerve cells, and we're excited to explore their use as a viable treatment for Parkinson's disease."
Preliminary research will likely be completed in 2013. That stage will be followed by preparation of the cells for clinical use when the group plans to join other qualified organizations to help design a national, multicenter trial. The clinical trial is slated to launch two or three years later, depending on the timeframe required for obtaining FDA and other regulatory approvals.
Parkinson's disease symptoms and treatment
Healthy nerve cells in our brains produce molecules called neurotransmitters, including dopamine, which is a chemical that helps control muscle movement. In Parkinson's disease, nerve cells degenerate, and the resulting loss of dopamine leads to symptoms that include muscle tremor, muscle stiffness, trouble walking, imbalance and speech problems.
While Parkinson's disease itself is technically not fatal, the Centers for Disease Control and Prevention rated complications from the disease as the 14th leading cause of death in the United States; it is estimated to affect one in 100 people over age 60. While medications and surgery can be helpful in lessening symptoms, there is not currently a cure for Parkinson's disease.