Patient Thanks His ED Doctors for Saving His Life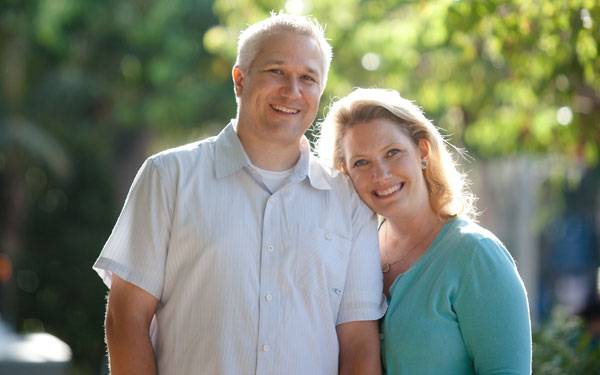 Blake Peter will be forever grateful that paramedics took him to the Conrad Prebys Emergency and Trauma Center at Scripps Mercy Hospital.
Blake can't remember his first 23 hours at Scripps Mercy, but he will never forget the emergency department team that saved his life.
Blake became a patient at the emergency and trauma center soon after it opened, arriving by ambulance on a February morning after experiencing a racing heart and fainting for the second time in two days. According to Valerie Norton, MD, as soon as Blake was hooked up to a monitor, paramedics yelled that he was flat-lining — his heart had stopped beating.
Blake was resuscitated, but kept slipping away as Dr. Norton, medical director of emergency medicine at Scripps Mercy, tried to determine what could have caused a healthy 37-year-old to faint and his heart to stop beating. With her patient going in and out of cardiac arrest, Dr. Norton could not administer the tests that would definitively diagnose what she suspected — a pulmonary embolism, or massive blood clot in the lungs.
With time running out and CPR under way, she decided to administer a clot-busting drug that could save Blake's life. The team was waiting for the medication to arrive from the hospital's pharmacy when word came that the patient's wife, Melanie, had arrived in the waiting room.
In an unusual gesture, Dr. Norton decided to ask Melanie if she wanted to be with her husband. Most physicians do not advocate having family present during a "code blue," or when a patient needs resuscitation. Melanie didn't falter, and the physician maintains that it was Melanie's coaching and cheering that helped stabilize Blake's condition. Melanie was only in the room two minutes before Blake's heart began to beat steadily.
"I had a great team, but I sincerely believe that what made the difference to Blake was Melanie's cheerleading," says Dr. Norton.
Dr. Norton was able to diagnose a pulmonary embolism and safely administer the thrombolytic, or clot-busting drug, which she hoped would save her patient. When he opened his eyes the next morning, Blake's first thought was that he was glad to be alive.
"I was so grateful to the people who cared for me," he says. "The team works miracles."
After such a traumatic experience, Blake and Melanie formed a lasting bond with his health care team and have dinner with them once a month.
To keep his health on track, Blake left his stressful real estate position of the past four years to work as a broker selling limited properties. The former runner now walks three days a week in nearby Balboa Park, eats four to five small meals a day and makes sure to take time to relax with Melanie.