Scripps Gives Hope for Heart Failure Patients
VAD patient enjoys stopping to smell the flowers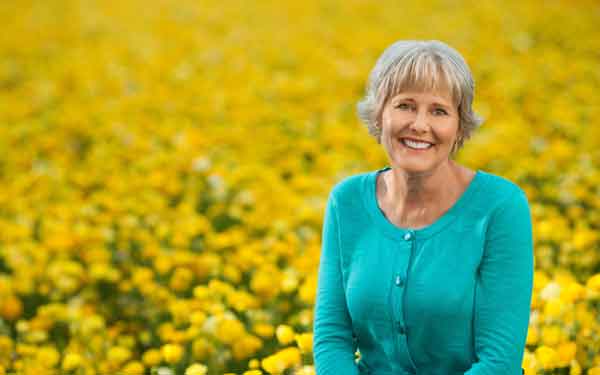 Kjarla "KJ" Foster is no stranger to heart failure. Not only has it has taken the lives of her father, sister and two brothers, but last fall it came dangerously close to taking her life, too.
The 57-year-old Oceanside resident was busy living a full and active life with her husband, George. But all of that came to an abrupt halt when she began experiencing shortness of breath and stomach pain following a trip to Yellowstone National Park in 2011.
Tests performed by Scripps cardiologist Ali Hamzei, MD, showed that Foster's heart was functioning at a significantly reduced level, and she found herself admitted to Scripps Memorial Hospital Encinitas later that very day.
For a time, physicians were able treat Foster's failing heart with various medications, along with an implantable cardiac pacemaker/defibrillator to keep her heart rhythm regular.
In the fall of 2012, after she had undergone a series of hospitalizations, Foster's family legacy caught up with her. She, too, was in the throes of heart failure and would need a heart transplant.
With her condition worsening by the day, Foster was referred to James Heywood, MD, a Scripps heart failure specialist. Dr. Heywood told Foster that she would be a good candidate for a ventricular assist device (VAD) – an implantable mechanical pump that would provide a "bridge" until a heart transplant became available.
So, on Nov. 26, 2012, Foster underwent open heart surgery at Scripps Memorial Hospital La Jolla. During the six-hour procedure, Scripps surgeon Sam Baradarian, MD, implanted the VAD into her chest. The device immediately began helping Foster's heart pump oxygen-rich blood throughout her body.
She spent almost a month in the hospital and inpatient rehabilitation recovering, then another month at home further recuperating. On Feb. 4, Foster returned to work full time and she now spends time lending support to other patients undergoing VAD procedures.
Since the surgery, Foster can always be found wearing a black fanny pack that houses the battery pack and the cords for the VAD. She admits that the adjustment to the VAD has been a challenge and she greatly misses being able to swim or go in the ocean, but she feels blessed to be alive and attributes her amazing recovery to her family and her entire team of health care providers at Scripps.