Scripps CEO: It's Not All About Oct. 1
Effects of new government-backed insurance markets will take time to emerge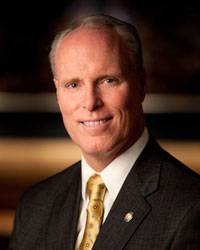 With the launch of California's new health insurance exchange Oct. 1, Scripps President and CEO Chris Van Gorder is making the case for calm, noting that it will take time to know the new law's full effects.
"There has been much anticipation in the lead up to this Affordable Care Act milestone," Van Gorder said. "Scripps is happy to participate on the exchange as a service to the business community, our patients and the community in general. However, we know the world of health care won't change overnight," he said. "It will take months for the impact of the new insurance markets and the other ACA initiatives to play out. It's still unclear who will sign up for the new health plans and how robust the markets will become.
"No matter what happens with the exchanges, health care in this country is already changing and must keep evolving, because it's broken," Van Gorder said. "This crisis presents a challenge and an incredible opportunity for physicians and hospitals to fundamentally reshape the future of health care."
Scripps underwent a restructuring three years ago so that evidence-based best practices –
the most efficient way to provide the best care to patients – are put in place throughout all Scripps facilities. This focus on the patient has resulted in some dramatic benefits to the organization, which has achieved some $200 million in performance improvements, with close to $100 million planned for fiscal year 2014.
"Besides being in alignment with the spirit of health care reform," Van Gorder said, "it's the right thing to do for our patients."
Once the exchange launches, individuals and small business employees can receive care from Scripps hospitals and clinics through Blue Shield and Health Net plans offered through Covered California, the state agency charged with overseeing new health insurance markets required by the ACA.
Federal subsidies are available to lower-income consumers who participate in the individual exchange. Plans offered through the exchange must provide basic health care benefits along with preventive and wellness services, chronic disease management, prescription drug, laboratory testing, mental health benefits and other services.
The small business exchange, known as the Small Business Health Options Program or SHOP, is designed to offer affordable health insurance options to businesses with 50 or fewer workers by providing an online one-stop-shop for purchasing coverage, as well as federal tax credits of up to 50 percent of the cost of employer-paid premiums for businesses with fewer than 25 workers. SHOP is not a replacement for current options in the private insurance market place. It is simply an additional option that provides employers the ability to offer their workers multiple plans with multiple carriers, without having to worry about participation issues or getting multiple invoices from different carriers.
Some other significant elements of the ACA going into effect Jan. 1 include the requirement that most U.S. citizens have health insurance, the expansion of Med-Cal (or Medicaid outside California) to include those with incomes up to 133 percent of the federal poverty level, and a ban on insurers denying coverage for pre-existing conditions.
"I expect the implementation of the exchange will probably be messy at first, and I'm sure one side will focus on all the positive stories, while the other will focus on the negatives," Van Gorder said. "But while the ACA and its initiatives may not be perfect, it is the law of the land, and it is a step toward addressing this nation's health care problems. The fact that health care costs this nation so much – it amounts to some $3 trillion a year – and still 48 million people go without coverage is unacceptable."
Learn more about Scripps Health, a nonprofit integrated health system in San Diego, Calif.