Scripps Proton Therapy Center Accredited by Joint Commission
Note to Patients: The following news is posted for archival purposes only. Scripps is no longer accepting new patients for proton therapy.
Accredited for comprehensive care and advanced diagnostic imaging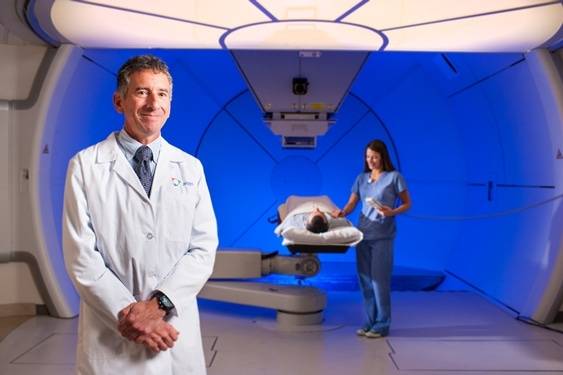 The Scripps Proton Therapy Center has earned three-year accreditations for comprehensive ambulatory health care and for advanced diagnostic imaging by the The Joint Commission, an independent nonprofit association that certifies health programs nationwide.
"This accreditation provides independent validation of Scripps' strong capacity to deliver high-quality patient care," said Scripps President and CEO Chris Van Gorder. "It's one more way for patients to know Scripps provides the most advanced cancer care available."
A surveyor from The Joint Commission visited the center March 18 and 19 to review the center's facilities, technology and operations. This included treatment planning and delivery equipment, imaging technology, quality assurance processes and patient workflow procedures, among other areas. The surveyor also met with physicians and physicists and observed a patient treatment session and a diagnostic study.
In addition to providing third-party validation, this accreditation is required by some insurance payers before they will authorize coverage for proton therapy.
The Scripps Proton Therapy Center opened for patient care in February. It is the first in the nation to treat patients exclusively with "pencil-beam scanning," the most precise form of proton therapy available. Pencil-beam technology uses a beam of protons the width of a pencil lead to destroy tumors. The beam is swept across the tumor in fine strokes, building up the radiation onto the tumor layer by layer, while sparing healthy, surrounding tissue.
The main benefit of proton therapy is its ability to treat patients with a substantially lower total radiation dose to normal tissue, compared to the latest X-ray technology.
The facility's on-site imaging center includes CT and PET-CT scanners and an MRI machine, which play a key role in the treatment planning process. This technology is also used to perform follow-up studies on patients following their treatments.
Scripps Health provides the center's clinical management services and Scripps Clinic oversees the medical services. Advanced Particle Therapy is the center's developer and owner. The center is located in the Mira Mesa area of San Diego at 9730 Summers Ridge Road. More information is available by calling 858-549-7400.
Lear more about Scripps Health, a nonprofit integrated health system in San Diego, Calif.