International Speed-Skiing Champion Chooses Scripps for Heart Care
World-class athlete announces fundraiser to honor Scripps physician for saving his life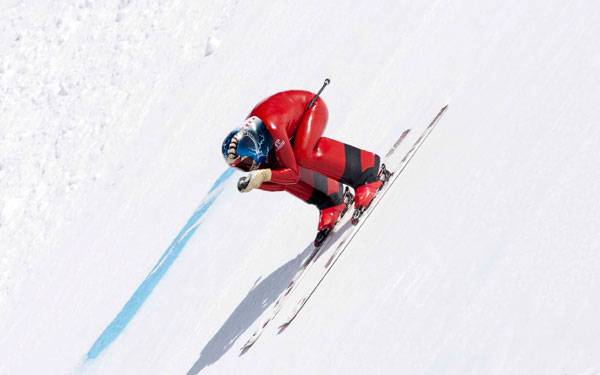 World-class athlete announces fundraiser to honor Scripps physician for saving his life
Philippe May is one of the world's fastest skiers. A two-time world champion and a 12-time Swiss champion in speed skiing, he is one of only five skiers to exceed 156 mph down the slopes.
Philippe is also a world-class cyclist who flew to San Diego in 2014 to compete in the Race Across America, one of the world's most challenging endurance bicycle races. But before he could even start the race, Philippe was diagnosed with a life-threatening heart condition.
Arriving in San Diego feeling weak and lightheaded, Philippe learned from Scripps physicians that he had a progressive heart condition called arrhythmogenic right ventricular dysplasia (ARVD). Cardiologist John Rogers, MD, implanted an ICD (implantable cardioverter-defibrillator) to ensure his heart would not suddenly stop should he go into cardiac arrest.
"Despite his very active lifestyle, Philippe had no previous symptoms, which is typical of this type of heart abnormality," says Dr. Rogers. "That's why it is so important for people to be screened. It can prevent sudden cardiac arrest, which is almost always fatal."
Philippe lost his father at age 39 and his uncle in his early 40s. Their early deaths were mostly likely from the same condition, which tends to run in families.
Though San Diego is almost 6,000 miles from his home in Switzerland, Philippe has chosen Scripps for his continued heart care. No matter where Philippe is in the world, Dr. Rogers monitors him from La Jolla through the implanted defibrillator.
"I feel I was blessed to arrive in San Diego and have Dr. Rogers caring for me," says Philippe. "I was lucky to find a doctor who can show me it is possible to still do the things I love."
Philippe and his Swiss racing team, Twisted Swissters, also competed in the 2015 Race Across America. The annual 3,000-mile cycling event began June 20 in Oceanside, California, and ended in Annapolis, Maryland, six days later.
To express their gratitude for not only saving his life, but preserving the ultra-active lifestyle he loves, Philippe and his team set a goal to raise $25,000 to honor Dr. Rogers and thank Scripps for helping Philippe live his life the only way he knows how — full speed ahead!
Take up Philippe's challenge and support lifesaving heart care at Scripps