This Thanksgiving, California Couple Is Feeling Grateful for Proton Therapy
Note to Patients: The following news is posted for archival purposes only. Scripps is no longer accepting new patients for proton therapy.
Joyce, Joe Hampton both treated for cancer at Scripps Proton Therapy Center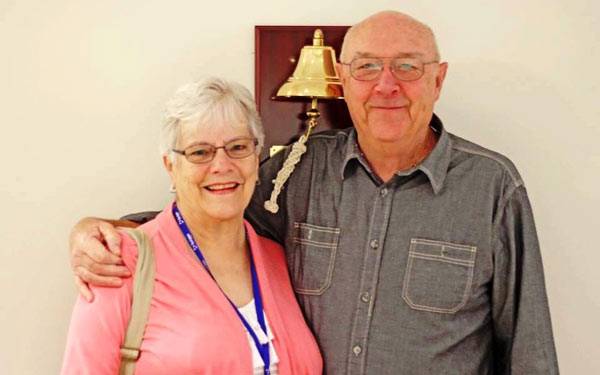 Joyce, Joe Hampton both treated for cancer at Scripps Proton Therapy Center
Joyce and Joe Hampton enjoy many activities together as husband and wife, such as travelling the country, exploring museums, and taking in the latest movies.
"Just being at home together is the best of all," said Joyce.
But this Thanksgiving, the longtime Redding, Calif., residents are feeling appreciative for a totally different sort of shared experience. Both recently underwent a unique form of radiation treatment called proton therapy to treat their cancers. And both have returned to full health in time to celebrate the holiday season with a family that includes 17 grandchildren.
In May, Joyce finished her treatments for breast cancer at the Scripps Proton Therapy Center in San Diego, one of just 17 such centers in the United States. Joyce's case was especially sensitive, due to her pre-existing heart condition. Conventional X-ray radiation to treat her breast would have also likely damaged her heart. Joyce instead chose proton therapy, an extremely precise form of external beam radiation treatment that effectively kills tumors, while sparing more of a patient's nearby healthy tissue than conventional X-ray radiation.
This accuracy lowers the probability of patients experiencing side effects and treatment-related cancers. Proton therapy is best suited for solid tumors that have not spread to distant areas of the body, are located near sensitive normal tissue and require high doses of radiation.
Joyce said she experienced minimal side effects during her treatments. Today, she keeps active by scrapbooking, serving as a member of the California Highway Patrol's senior volunteer program, and serving with Joe as a greeter at their church, Redding First Church of the Nazarene.
Before choosing it for herself, Joyce gained an up-close look at proton therapy, which is used with approximately 1 percent of cancer patients in the U.S. who receive radiation treatment. She was by Joe's side when he was treated for prostate cancer at Scripps late last year.
Joe served in the U.S. Navy for 21 years and spent part of that time as a radiation technologist, so he was already familiar with the accuracy of proton therapy compared to conventional X-ray therapy. He completed his treatments just before Thanksgiving 2014 and in short order returned to his previous daily routine.
During his treatments, Joe felt well enough to join Joyce on frequent visits to San Diego landmarks including the USS Midway Museum, Cabrillo National Monument, the San Diego Zoo and Balboa Park.
"I'm as healthy now as I was before the treatments," said Joe, 75, who personally maintains the landscaping at his home's a 5-acre property, which is lined with giant oak, pine and manzanita trees. Ever the handyman at home, Joe completed the finish work on two bathroom remodeling projects earlier this year.
On Nov. 30, Joe and Joyce will return to San Diego for a follow-up visit at Scripps Proton Therapy Center, which holds a special place in their hearts.
"One thing really stuck with us when we were both going through our treatments," Joyce said. "We met so many other patients who were also there to be treated for cancer, but everyone seemed so upbeat. The atmosphere was more like a party than a medical facility."
There are currently 17 proton therapy centers for cancer care in the United States, compared to more than 2,000 conventional X-ray radiation treatment centers. Proton therapy has been used for cancer care in the U.S. since the 1950s and has gradually become more prevalent in recent decades. It is expected that the U.S. will be home to 29 proton centers by 2020, according to a recent independent report.
Proton therapy is approved by the Food and Drug Administration and has a long-established history of reimbursement by Medicare and many private health insurance payers.
Learn more about Scripps Health, a nonprofit integrated health system in San Diego, Calif.