Proton Therapy Opens Unique Window on Cancer Research
Note to Patients: The following news is posted for archival purposes only. Scripps is no longer accepting new patients for proton therapy.
Research momentum building as more proton therapy centers open in U.S.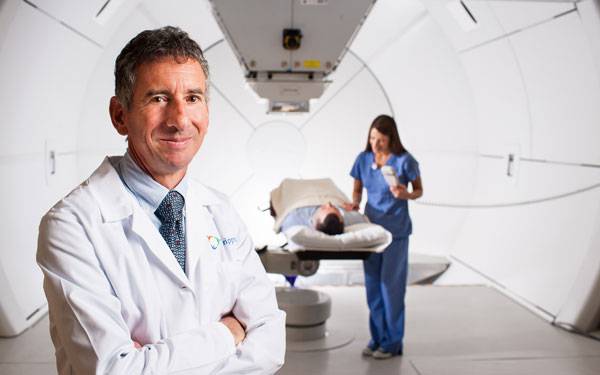 May is National Cancer Research Month, declared by the United States Congress to recognize innovative work being done to help foster improvements in patient care.
And while much attention has rightly been given to advances in immunotherapy, genetic testing and targeted drugs, another key area of cancer research – proton radiation therapy – has been gaining momentum as well.
Proton therapy is a form of external beam radiation that effectively kills cancer, while sparing more healthy tissue surrounding a patient's tumor than conventional X-ray radiation therapy. It is a highly specialized treatment, with 23 proton therapy centers now operating in the U.S., compared to approximately 2,000 facilities offering X-ray therapy nationwide.
The first hospital-based proton center in the U.S. opened in the early 1990s, but it's only recently that proton therapy has become more mainstream. The number of proton centers in the U.S. has doubled since 2012 and several more are on the way, as the technology becomes more affordable. Meanwhile, the volume and breadth of scientific studies exploring the benefits of proton therapy are expanding, with approximately 100 proton-related clinical trials currently active and recruiting in the U.S.
"We're curing more people of cancer today and they're living longer after their treatments," said Carl Rossi, MD, medical director of the Scripps Proton Therapy Center in San Diego. "More than ever, we need to be cognizant of the potential effects our treatments may have on patients' long-term health. Radiation kills cancer, but it can also potentially cause cancer and other serious health problems, so the less of it we deliver to patients' healthy tissue, the better."
Because it is composed of positively charged heavy particles, a proton beam can be controlled to deposit the bulk of its cancer-fighting energy (or radiation dose) within the tumor, with little to no radiation to normal tissue in front of or behind the tumor. By comparison, X-ray beams are composed of massless particles of energy with no electrical charge, and as a result, deliver radiation to healthy tissue in front of and after the tumor site. X-ray therapy has improved over the years and is effective in controlling many cancers, but in certain cases, the accuracy of proton therapy offers a clinical advantage.
Validating the clinical advantages of proton therapy through research studies will be crucial to gaining wider coverage by insurance companies, due to its relatively higher treatment costs compared to X-ray treatments.
Previous advances in radiation oncology were adopted based on their ability to reduce harmful radiation to normal tissue, and proton therapy offers the greatest leap forward in a long line of advances. But given the trend toward greater cost containment in health care today, the radiation-sparing benefits of proton therapy will need to be quantified through clinical research.
Proton centers are now opening at an accelerating rate, with five centers expected to open in the U.S. in 2016. The critical mass for collaborative research in the proton realm is mounting and the investigative momentum is building, especially with some of the nation's most highly respected research institutions involved, such as Mayo Clinic, Massachusetts General Hospital and the University of Texas MD Anderson Cancer Center.
This is further underscored by the American Society for Radiation Oncology devoting a special edition to this topic in the May 2016 issue of its official journal, International Journal of Radiation Oncology, Biology, Physics. An editorial in the journal proclaimed proton research to be at a "tipping point," where better evidence could make access to the therapy more widespread.
Here's a look at some of key current and recent research studies in the field of proton therapy, and how their results could help reshape the quality of care delivered to cancer patients, both in the short term and over the long haul.
Breast cancer
A randomized trial starting this year will enroll approximately 2,000 women with locally advanced breast cancer to receive either proton or X-ray therapy. The goal is to assess the effectiveness of protons compared to X-rays in reducing major cardiovascular events in patients 10 years after their radiation treatments. A 2013 report in the New England Journal of Medicine found that women who received X-ray therapy to their left breast had a higher risk of major heart disease, which was directly linked to the dose and volume of heart that was irradiated during treatment. Scripps Health and clinical partner UC San Diego Health System plan to participate in this national, multi-institutional study, led by the Perelman School of Medicine at the University of Pennsylvania.
Lung cancer
This recently launched clinical trial will compare the overall survival of patients with inoperable non-small cell lung cancer. More than 500 patients will be randomized to receive either proton or X-ray therapy, both given with concurrent chemotherapy. A recently published study showed that escalating the X-ray radiation dose to treat lung cancer – which provides a better chance to control the tumor – was linked to an increased incidence of heart disease and cardiac death because of unwanted radiation exposure to the nearby heart. This multicenter trial aims to determine if the use of proton therapy will result in improved survival time.
Pediatric cancer
A 2016 study concluded that pediatric patients with a form of brain cancer called "medulloblastoma" had fewer long-term side effects such as hearing loss and cognitive disorders following treatment with proton therapy, compared to those receiving conventional X-ray radiation. Published in The Lancet Oncology and led by researchers at Massachusetts General Hospital, the study found protons were as effective as X-rays in treating the cancer, while eliminating the cardiac, pulmonary and gastrointestinal effects reported with X-ray patients.
National registry study
The Proton Collaborative Group (PCG) was formed approximately five years ago to support cooperative research among U.S. proton centers. The PCG maintains a national patient registry of more than 6,000 proton therapy patients in the U.S., covering a wide variety of cancer types. This observational registry study collects standardized data on each patient's course of treatment and clinical outcomes, including side effects and tumor control. This clearinghouse of data allows doctors to analyze trends and draw statistical conclusions that can guide treatment decisions – all in a much quicker fashion than if centers conducted research in silos.
Prostate cancer
In addition to maintaining a broad-based registry trial of proton patients, the PCG also facilitates multicenter randomized trials for specific tumor sites. Once such study led by Northwestern Medicine Chicago Proton Center is currently randomizing prostate cancer patients to receive either the standard nine-week course or proton therapy, or an accelerated – or hypofractionated – one-week course involving higher-dose treatments. Both groups would receive the same cumulative radiation dose, but because of the accuracy of protons, it may be possible to safely deliver fewer – but more potent – treatments. A shorter treatment time would not only be more convenient for patients, but would also lower costs and improve access to proton therapy for other patients.
Advanced Particle Therapy is the developer and owner of the Scripps Proton Therapy Center facility. Scripps Health provides the center's clinical management services and Scripps Clinic oversees the medical services. Varian Medical Systems of Palo Alto, Calif., developed and installed the center's ProBeam proton delivery system.
Learn more about Scripps Health, a nonprofit integrated health system in San Diego, Calif.