10 Things to Know About the New Scripps MD Anderson Cancer Center
Scripps and MD Anderson working together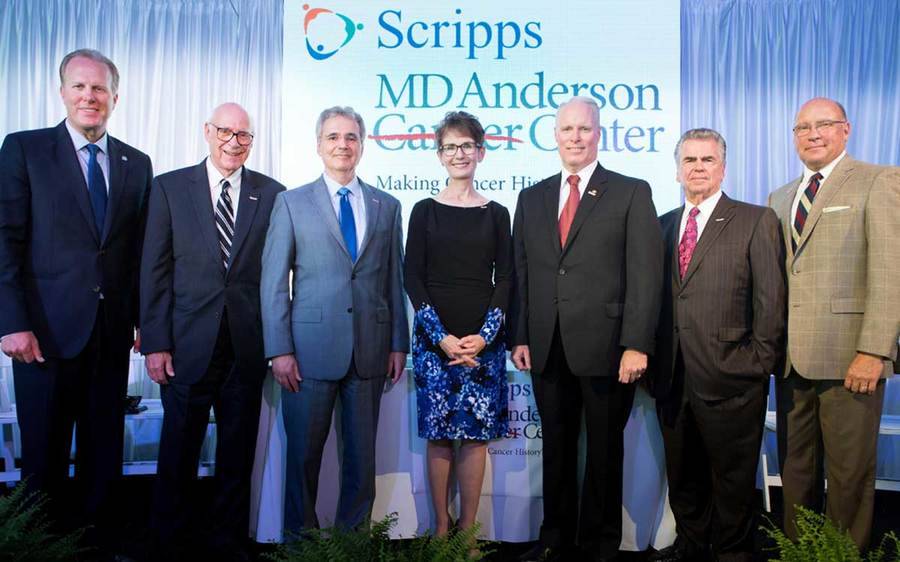 Scripps and MD Anderson working together
Scripps Health and The University of Texas MD Anderson Cancer Center have reached a partnership agreement to create Scripps MD Anderson Cancer Center, a comprehensive and clinically integrated cancer care program in San Diego that will provide adult cancer patients greater access to the most advanced oncology care available throughout Southern California.
Through this partnership, Scripps MD Anderson is part of MD Anderson Cancer Network®, a global collaborative network of hospitals and health care systems dedicated to MD Anderson's mission to end cancer globally. The collaboration allows Scripps to combine its expertise with MD Anderson's knowledge and capabilities for Southern California, covering eight counties from Santa Barbara to the U.S.-Mexico border.
Here's what you need to know
1. One of the greatest medical challenges we face today is cancer
Tremendous progress is being made in its treatment – and overall, more people than ever are surviving. But there is a lot of work yet to be done. Our mission with MD Anderson and with other health care organizations around the world is to eliminate this devastating and complex set of diseases.
2. Through this partnership, Scripps MD Anderson will be part of the MD Anderson Cancer Network
The MD Anderson Cancer Network is a global collaborative of hospitals and health care systems dedicated to ending cancer globally. We will be combining our cancer expertise with the best of MD Anderson's knowledge and capabilities. Scripps MD Anderson Cancer Center will be overseen by physician and administrative leaders from both organizations.
3. Our work with MD Anderson begins immediately 
4. Scripps will continue to provide comprehensive cancer care
Scripps ongoing care includes medical, radiation and surgical oncology, pathology, laboratory and diagnostic imaging and other clinical support services, as well as numerous cancer clinical trials. As the program develops, patients will also have local access to MD Anderson's world-renowned treatment protocols, standards of care, extensive clinical trials and translational research.
5. Our plan is to create comprehensive Scripps MD Cancer Center locations 
Specific locations will be determined over the next several months. Meanwhile, we continue to provide both inpatient and outpatient cancer care at our facilities throughout San Diego County.
6. Your cancer care at Scripps will include the vast experience and insight from the nation's No. 1-ranked cancer center
Scripps physicians will follow MD Anderson care protocols and processes and have access to MD Anderson specialists to consult with as needed regarding your care. Soon that will include greater access to sub-specialists for various tumor sites, which is critical as cancer care becomes increasingly specialized.
7. The Scripps MD Anderson Cancer Center will offer a patient-centered approach to care
Teams of oncology specialists will support patients and families in making informed, evidence-based medical decisions. It will also offer an array of patient support services, including genetic counseling, nurse navigation, integrative medicine, palliative care, imaging services and social worker assistance.
8. You will not need to leave San Diego and travel to Houston for Scripps MD Anderson Cancer Center care
Scripps already is one of the largest cancer care providers in San Diego County and we offer more treatment modalities in San Diego than any other care provider. While your physician may occasionally recommend other options, the vast majority of our cancer care will be provided right here in San Diego.
9. MD Anderson Cancer Center is ranked No. 1
MD Anderson treats more cancer patients, offers more clinical trials and has more National Cancer Institute-funded studies than any other cancer-fighting organization in the United States. This is why Scripps is partnering with MD Anderson here in San Diego. Working together, our goal is to make our San Diego program one of the best in the country.
10. This is an important advancement for cancer care in Southern California
Our partnership with MD Anderson builds on Scripps' history of providing exceptional cancer care to our region. The new Scripps MD Anderson Cancer Center will bring the nation's best in cancer care to patients, close to home.