Navy Vet Celebrates 100th Birthday by Finishing Cancer Treatments at Scripps
Note to Patients: The following news is posted for archival purposes only. Scripps is no longer accepting new patients for proton therapy.
Proton therapy allows Carlsbad man to maintain active lifestyle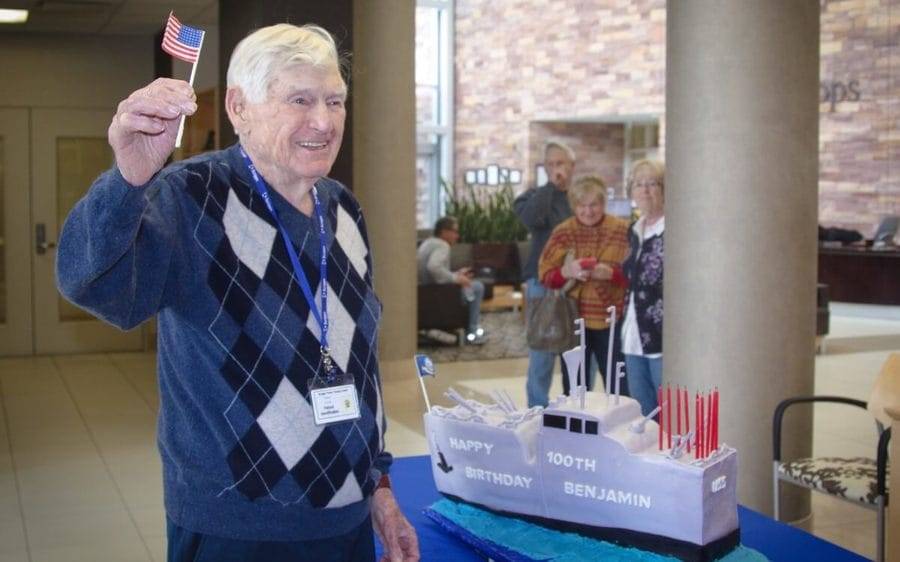 Proton therapy allows Carlsbad man to maintain active lifestyle
For Ben Schulman, who turned 100 years old this week, January will be a month packed with celebrations, including a special one held Jan. 18 at the Scripps Proton Therapy Center for completing five weeks of treatment to shrink the tumor in his spine.
Minutes after he finished his last treatment, Schulman was joined by friends, family and caregivers for a special bell-ringing ceremony, followed by birthday cake and well wishes.
The goal of the therapy was to allow Schulman to maintain his active lifestyle, which includes global travel, business and golf. Schulman, of Carlsbad, plans to immediately begin proving the therapy a success.
News Media: Download High-Res B-Roll Video Here
This weekend, he'll be in Nashville, Tenn., where Vanderbilt University has prepared a birthday celebration to honor the 1938 graduate of its school of engineering. Schulman is a Vanderbilt benefactor who spearheaded the development of the university's center of Jewish life that bears his name. Upon his return home, the Navy veteran and entrepreneur looks forward to once again playing golf and running Schulman Mobile Video, a video production company he owns in Hollywood.
25-year cancer battle
Schulman was diagnosed with prostate cancer in 1992 and was treated with conventional X-ray radiation. In 2009, doctors discovered the cancer had spread to his spine and treated it, again with X-ray radiation. After treatment, he resumed international travel a few times a year and golf with his longtime companion, Janet Davis, several times a week.
But by 2016, doctors found that a second tumor on his vertebrae was growing, putting him at risk for bone destruction. Schulman was unable to play golf for much of 2016. He did, however, continue to travel, including a trip to Hawaii in December for the 75th anniversary commemoration of the attack on Pearl Harbor. Schulman, a retired lieutenant commander, was aboard the USS Missouri in 1945 when Gen. Douglas MacArthur accepted Japan's surrender to end World War II.
Doctors worried that Schulman's metastasis could cause bone weakness. This would increase the likelihood of a debilitating spine fracture, as well as pinched nerves, which would impact Schulman's ability to control his muscles, said Carl J. Rossi, Jr., MD, medical director of the Scripps Proton Therapy Center. Doctors agreed proton therapy would enable Schulman to maintain his quality of life and resume his active lifestyle past his 100th birthday.
Highly targeted therapy
Proton therapy is a form of radiation treatment that kills cancer cells while preserving healthy surrounding tissue. Conventional radiation treatments use X-rays, which penetrate into normal tissue around the tumor and increase the probability of side effects and secondary cancers. But a proton beam can be controlled to stop where the tumor stops.
"I'd recommend proton radiation therapy to anyone who is a candidate," said Schulman, a father of five, grandfather and great-grandfather. "I feel great and there's no side effects. I'm looking forward to going back to playing golf at least two times a week and just living the good ol' life," he said.
"That was one of the reasons his medical oncologist recommended proton therapy instead of X-ray therapy -- to minimize side effects of treatment," said Dr. Rossi.
Power of pencil-beam
Scripps Proton Therapy Center uses pencil-beam scanning, the latest advancement in proton therapy. Pencil-beam scanning sweeps a narrow proton beam across the tumor in fine strokes, building up the dose layer by layer. The result is a dose of cancer-killing radiation that conforms precisely to the unique shape of the tumor.
A non-invasive treatment, proton therapy has been shown to be highly effective for adults and children who have solid, deep-seated tumors that have not spread to distant parts of the body. Proton therapy has been used in the United States since the 1950s but is only recently becoming more available. Scripps Proton Therapy Center opened in 2014 for adult and pediatric patient care. It is one of 25 proton centers currently operating in the United States.
"The nice thing about treating him here at the Scripps Proton Therapy Center is that we were able to treat him effectively, with minimal impact on his quality of life," Dr. Rossi said.
Learn more about Scripps Health, a nonprofit integrated health system in San Diego, Calif.