How to Prevent Electric Scooter Injuries
Learn how to ride e-scooters safely, so you can avoid a trip to the emergency room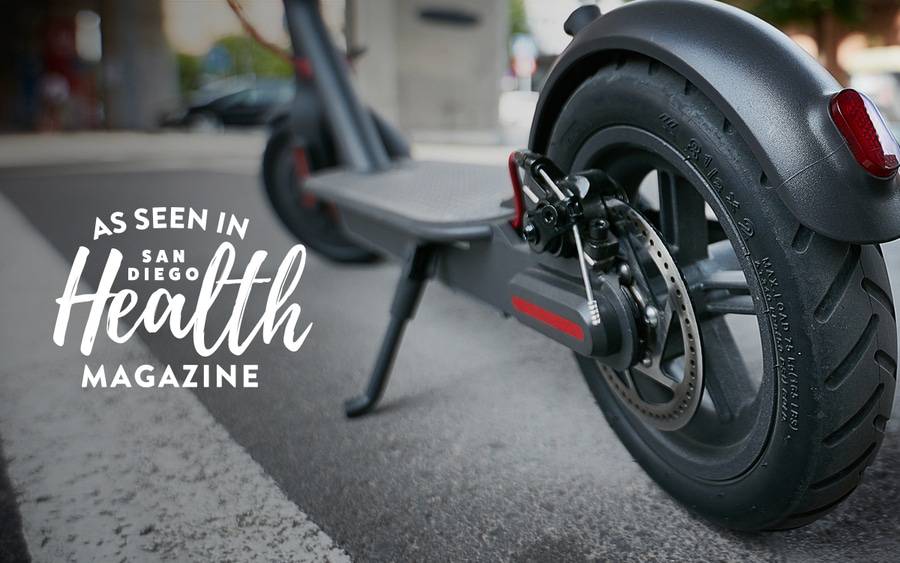 Learn how to ride e-scooters safely, so you can avoid a trip to the emergency room
Electric scooters have become a familiar sight on many streets in San Diego and other big cities. Convenience and cost are behind their soaring popularity, but often riders don't realize their quick trip through the neighborhood could end up rolling them right into the hospital.
"E-scooters have been becoming increasingly problematic," says Walter Biffl, MD, trauma medical director at Scripps Memorial Hospital La Jolla, and a Scripps Clinic trauma surgeon. "It's really a national scourge that everyone's dealing with in urban areas."
E-scooter safety statistics in San Diego
Dr. Biffl's trauma unit typically sees riders who have suffered serious craniofacial and orthopedic injuries, and counts 26 scooter-related injuries in patients admitted into that department over the past year.
At Scripps Mercy Hospital San Diego, the trauma center sees on average two to three scooter-related injuries a week, says trauma surgery director Vishal Bansal, MD.
"We see an assortment of injuries, and the majority of these are from falling off the scooters," Dr. Bansal explains. "The injury pattern that we're seeing is head injuries — concussions, brain injuries — and orthopedic injuries, which means broken bones, broken hands, broken wrists, broken legs, sometimes broken backs and broken pelvises."
Both doctors note that the majority of scooter-related incidents happen after the rider has been drinking.
"I think people see scooters as an alternative to driving a car, and a way to avoid a DUI," says Dr. Bansal.
Sound advice for using scooters safely
Drs. Biffl and Bansal have some commonsense advice to keep riders safe. 
"Don't do it while intoxicated," says Dr. Biffl. "Wear a helmet and watch out for traffic."
Dr. Bansal cautions against riding e-scooters at night. He says you should be familiar with the vehicle you're driving, never use excessive speed and stay off sidewalks, walkways and curbs. You should also be on the side of the street like you would riding a bike. 
"Pedestrians need to watch out for scooters, too," he adds. "We have seen injuries from not just pedestrians being hit by these electric scooters, but also by pedestrians tripping over them."
If you choose to use an electric scooter, please do so responsibly. The City of San Diego has the following laws in place to keep riders safe:
Helmets are required for riders under 18
Riders need a valid driver's license or permit
Riders must stay in a bike lane or on the right-hand side of the roadway, not on the sidewalk
No passengers allowed
Scooters can't be parked on the sidewalk or anywhere they're blocking the public right-of-way
The speed limit is 15 mph in most areas, although it's lowered to 8 mph in Balboa Park, Liberty Station, NTC Park and Spanish Landing Park, Mission Bay Park and on boardwalks; and 3 mph along Martin Luther King Jr. Promenade, North and South Embarcadero and Piazza della Famiglia in Little Italy
Scooters aren't allowed on streets with a speed limit higher than 25 mph unless there's a bike lane
Lights are required after dark
Do not use under the influence of alcohol