Fortune Names Scripps to National Best Companies List
Scripps is only San Diego company on Fortune's 100 Best Companies to Work For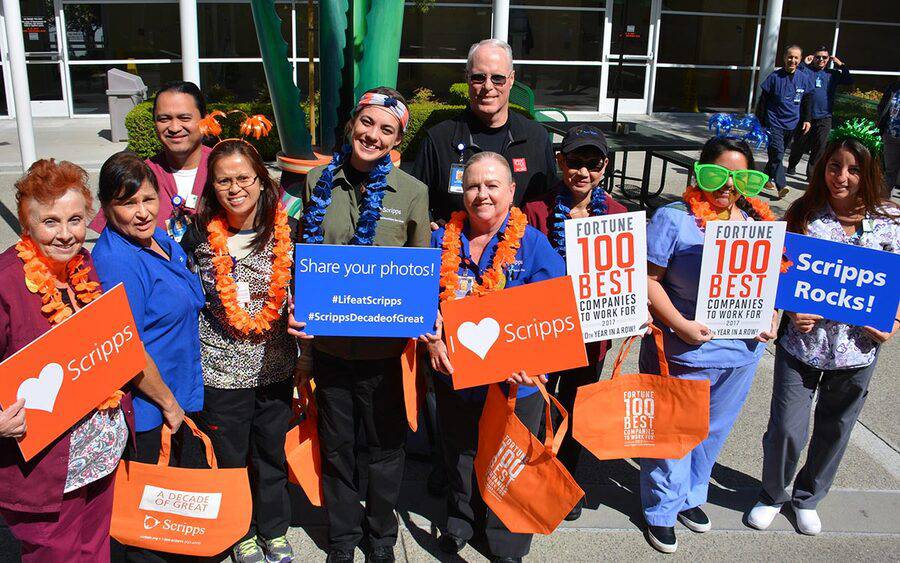 Scripps is only San Diego company on Fortune's 100 Best Companies to Work For
Scripps Health has been named among the top employers in the nation by Fortune magazine. Fortune's 23rd annual list of the 100 Best Companies to Work For ranked Scripps at No. 43. Scripps is the only San Diego-based company to make the list. 
The list was announced online today and will be published in the March print edition of Fortune. This year's selection marks the 12th time that Scripps has been included on the list. 
Scripps has created a high-performing, diverse workforce by accommodating the needs of its employees at the beginning, middle and later stages of their careers.
"Our employees are our greatest asset, and we invest heavily in their growth, well-being and success," said Scripps President and CEO Chris Van Gorder. "We're proud that Fortune has once again recognized our success in creating and sustaining an environment at Scripps where our workforce feels appreciated and empowered." 
According to a survey by Great Place to Work, Fortune's partner, 94 percent of Scripps employees say they are proud to tell others where they work. Scripps also provides an environment where employees want to stay, with 24 percent of its workforce having worked for the organization for at least 10 years. An additional 11 percent have been with Scripps for at least 20 years.
Scripps develops its workforce through programs that engage and encourage contributions from all employees. Scripps employees in response say they are grateful for the many opportunities available to them to grow in their jobs and advance their careers.
As part of its career-destination philosophy, Scripps has developed several innovative practices for employees at different stages of their careers. Scripps offers personalized career coaching services; various leadership training programs; and a professional education department that offers classroom training and online courses. It also offers a variety of employee recognition programs to celebrate job achievements.
"Our primary goal at Scripps is to deliver the very best patient care, so naturally we want to give our employees every opportunity to grow professionally," said Eric Cole, corporate vice president of human resources at Scripps Health. "We've seen that the more motivated, educated and engaged our people are, the higher the quality of their work will be."
Encouraging career growth
Scripps supports the academic development of its employees by administering scholarships and tuition reimbursement. It also offers discounts for courses offered by universities that have partnerships with Scripps. Annually, Scripps invests more than $33.5 million on training for its employees and provides $1.25 million in tuition reimbursement and scholarships.
Additionally, Scripps offers various programs to encourage movement across the organization, which is something that mid-career employees appreciate since it allows them to chart their career paths with organizational support.
Offering staged retirement

Scripps offers staged retirement to eligible, experienced employees who want to retire gradually, allowing them to reduce their current work schedule while maintaining their health benefits. 
Scripps encourages experienced employees to continue working in other ways. While traditional retirement packages at many other organizations max out at age 60, encouraging employees to leave at that point, Scripps lets retirement plans continue to grow past age 65. Older employees enjoy this benefit because it allows them to continue working without feeling financial pressure to retire.
Last year, Scripps Health received national workforce honors when it was named among 150 Great Places to Work in Healthcare by Becker's Healthcare magazine.
About the Fortune 100 Best Companies to Work For List
Great Place to Work based its ranking on a data-driven methodology applied to anonymous Trust Index survey responses from more than 650,000 employees at Great Place to Work-Certified organizations across the country. To learn more about Great Place to Work Certification and recognition on Best Workplaces lists published with Fortune, visit greatplacetowork.com.
About Great Place to Work
Great Place to Work is the global authority on workplace culture. They help organizations quantify their culture and produce better business results by creating a high-trust work experience for all employees. Emprising, their culture management platform, empowers leaders with the surveys, real-time reporting, and insights they need to make data-driven people decisions. They use their unparalleled benchmark data to recognize Great Place to Work-Certified companies and the Best Workplaces in the United States and more than 60 countries, including the 100 Best Companies to Work For list published annually in Fortune.