Patient Is Pain-Free After Spinal Fusion
A San Diego runner is back on her feet, and back in the race, after spine surgery at Scripps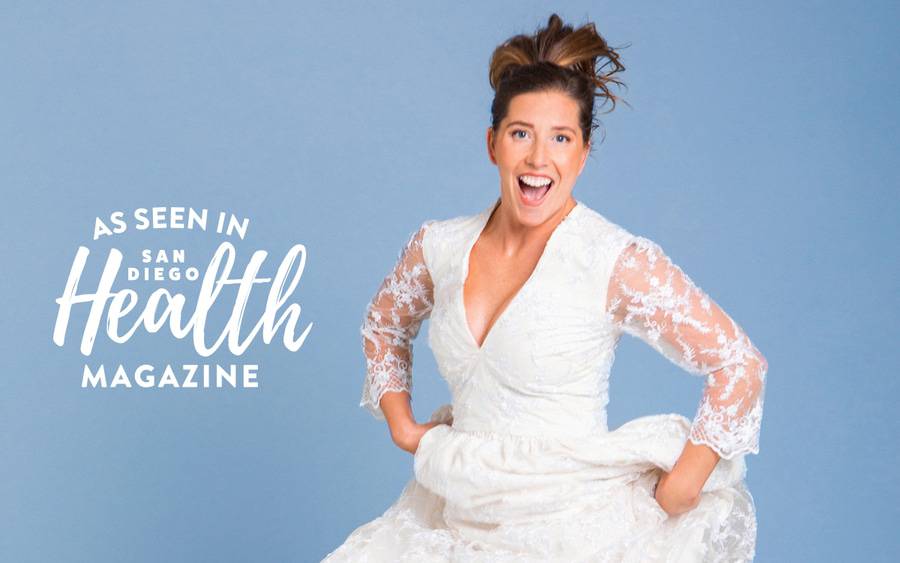 A San Diego runner is back on her feet, and back in the race, after spine surgery at Scripps
For some people, running a marathon is the ultimate feat — a bucket list, once-in-a-lifetime accomplishment. For Sarah Swiss, marathoning — and running in general — was her identity.
"I started running in high school and it ended up turning into a life passion," Swiss says. "I ran 13 marathons by my early 30s and was just known as the girl that ran." 
At age 31, however, something beyond her control happened that called her future as a runner into question. Plagued by lower back pain that was worsening by the day, she reached a point where she could barely sneeze without pain, let alone go out for a run.
"I started to sink into a depression, I was so miserable," she says. "Sitting hurt. Standing hurt. It got to a point where I had to tell myself to pick up my left foot to even walk."
Looking for lower back pain treatment
Even at that point, Swiss didn't have a diagnosis. She went to physical therapy and saw several physicians for cortisone injections before being referred to Jamieson Glenn, MD, a Scripps Clinic spine surgeon. 
After looking at her MRI and X-rays, Dr. Glenn determined that the pain she was experiencing was caused by a bulging disk, arthritis and deterioration. Surgery was an option, but because of her young age, it was considered an elective procedure.
"In Sarah's case it was really a quality-of-life issue," explains Dr. Glenn. "She was very young, but very active, and really wanted to get back not only to her old level of activity, but to an improved, functional status — something we take for granted when we're not in pain. She wanted to get back to running, and I couldn't guarantee that, but I told her we could give her body the best chance to heal itself and get her back to the things she loved doing."
Selecting spinal fusion surgery
Understanding her options and having already resorted to other treatment methods, like injections and physical therapy, Swiss opted for a spinal fusion surgery.
"There are different ways to do a spinal fusion, and we felt that for Sarah, it would be best to do a minimally invasive approach through the abdomen to the spine," Dr. Glenn explains. "This would mitigate the need to move the muscles in the back, which are important for running, and would result in fewer long-term potential issues."
Swiss underwent surgery on May 22, 2018, and she was back to walking the next day. To her surprise and delight, she was immediately pain free.
A return to running after spinal fusion recovery
A return to running after spinal fusion recovery
"This race was the culmination of a lot of things, and it was a special moment to celebrate getting back to my old self again."
Sarah Swiss
The rest of her recovery went off without a hitch. She walked for the first six weeks, then started aqua jogging, which helped her regain the strength she needed to start running again. On the fourth month after her surgery, she hit the road and, with her doctor's blessing, logged a mile and a half at a walk/run pace.
A year and a week after her surgery, Swiss ran a 1:53:19 half marathon at the Rock 'n' Roll San Diego Marathon.
"I was casually training without any intention of actually finishing, and I didn't even tell anyone I was running," she says. "Just finishing that race felt amazing."
While finishing the half marathon was sweet, what made it even sweeter was that it was an anniversary with her boyfriend, whom she first met at the finish line of the Rock 'n' Roll Marathon five years prior.
"This race was the culmination of a lot of things, and it was a special moment for us to celebrate me getting back to my old self again," she says.
It turns out the couple had even more to celebrate. They got married on October 18, 2019, and Swiss's happily ever after began with a pain-free walk down the aisle. 
Now she's the stepmother of 13- and 11-year-old girls, feeling great and focusing on achieving two more milestones: completing a full marathon in May 2020, around the two-year anniversary of her surgery, and adding a baby of her own to the family — a goal she couldn't even fathom prior to her surgery — all thanks to Dr. Glenn and the Scripps caregivers she credits with helping get her life back.
"Before, I would have shooting pain down my left leg and then it would turn numb. That would happen all day," Swiss recalls. "At the time, I couldn't even hold a laundry basket. How could I expect to hold a baby? My experience with everyone at Scripps was amazing. Everyone, from Dr. Glenn to the emergency room staff to the nurses to the social workers, were so nice, helpful, supportive and welcoming. Dr. Glenn went above and beyond. My life is like night and day from before the surgery to now, and I wouldn't be here today without him."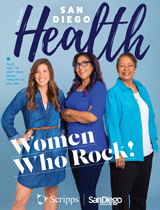 This content appeared in San Diego Health, a publication in partnership between Scripps and San Diego Magazine that celebrates the healthy spirit of San Diego.