Hip Replacement Provides Freedom from Pain
After years of living with chronic pain, a Murrieta woman finds relief at Scripps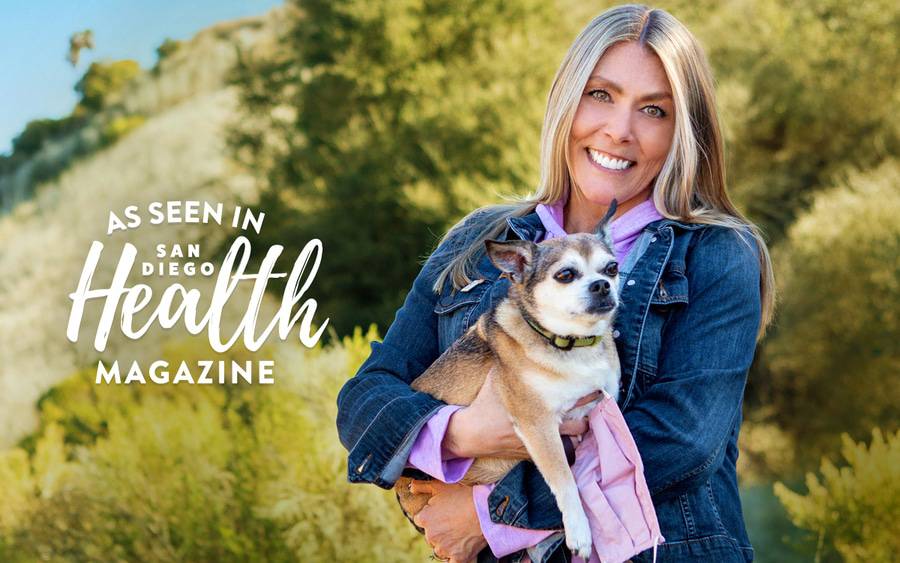 After years of living with chronic pain, a Murrieta woman finds relief at Scripps
For 54-year-old Linda MacInnes, life with chronic pain was nothing new. The Murrieta woman had two spinal fusions — one in 2002 and another in 2007 — and spent years in and out of pain.
"I wish I had a cool story about why I needed the fusions," she laughs. "But it was just degenerative. I blew a disc out moving boxes. I was feeling great after 2012. I was working out with a trainer and I dropped 40 pounds." 
Then, in 2018, the pain returned.
"I noticed that when I would work out too hard, I would feel pain," she says. "I thought it was my lower back, but I wanted to keep the weight off, so my trainer and I just worked around the issue. I had no idea it was my hip until I went to my primary care physician and he examined my range of motion."
MacInnes' doctor sent her to a local orthopedist for further examination. He confirmed that it was indeed her hip that was causing the pain, but he was reluctant to do surgery because of her age.
"He was great, but he said, 'You're only 53. I wouldn't do a replacement because you'll just have to redo it in 20 years,'" she recalls. "So, I began to search. You get three estimates when you're doing repairs on your house — why wouldn't I do the same for my body? I knew Scripps was the best, so I called. God bless whoever answered!"
A new type of minimally invasive hip replacement surgery
MacInnes reached the office of Anna Kulidjian, MD, a Scripps Clinic orthopedic surgeon, who by coincidence had just introduced a revolutionary new approach to hip replacements to San Diego: an efficient direct anterior (EDA) approach. 
Before this was developed, hip replacements were traditionally performed in other ways, each with advantages and disadvantages: 
A lateral approach uses an incision at the side of the hip. 
A posterior approach requires the surgeon to access the hip from behind the patient, cutting through major muscle groups and soft tissue in the back or side of the buttock. 
The anterior approach cuts through soft tissue in the thigh, using manipulation and hypertension of the limb and a specialized table.
The EDA approach allows the surgeon to perform the hip replacement with one surgical assistant, uses fewer instruments and a regular surgical table and decreases leg positioning during the procedure with less trauma to the patient's body, which can speed recovery.
"The hip replacement is considered to be one of the most successful surgeries, with a success rate close to 98%," explains Dr. Kulidjian. "The race now has become how to make it more uniformly low in possible complications, increase the efficiency and decrease instrumentation in order to decrease risk of infection."
Benefits of the efficient direct anterior approach
Benefits of the efficient direct anterior approach
Dr. Kulidjian says the biggest concerns regarding hip replacements are infection and dislocation risk, leg length discrepancy, and surgery and recovery time. Any improvement to the procedure means reducing these key factors.
"The anterior approach came as close as possible to being less invasive and allowing patients to recover faster," she says. "But that still requires X-rays and a large machine to allow a safe and efficient approach to the bone. Now, with the EDA approach, those barriers are eliminated. There are no X-rays, no specialized table, fewer people in the operating room, less repositioning of the patient, less dissection and less inflammation. It's an extremely well-thought-out procedure. It allows for a decreased number of steps, and each step is optimized to minimize bleeding. That's why it achieves such excellent results."
Dr. Kulidjian learned of this new approach in conversation at a meeting for innovators in the field of hip replacement surgery in late 2019. She traveled to Belgium in early January, where she spent a week training with the surgeon who developed the new approach. She returned to San Diego in mid-January 2020, eager to introduce the procedure to Scripps. Then, COVID-19 reached the US. 
Dr. Kulidjian used the unexpected downtime brought on by the pandemic to practice and perfect her newly learned procedure. She was granted access to a local cadaver lab where she was able to train. Now, in less than a year, she and her colleague, Scripps Clinic orthopedic surgeon Jeffrey Wilde, MD, have performed more than 200 surgeries using the EDA approach at Scripps Green Hospital, which is currently the only hospital in San Diego and the first in the country to offer it. For her, there's no turning back.
"I now exclusively use this approach," Dr. Kulidjian says. "We've done some very challenging hips. This approach offers the best option for people who would not otherwise be candidates — people who are more obese or have leg length discrepancies. It also allows us to use two trays instead of seven. It reduces surgical time from one hour to 35–40 minutes. 
"Because we manipulate the joint much less and cut much less, we've also seen great improvements in people's recovery," she adds. "Patients stopped needing narcotics — they're good using Tylenol. There are very good outcomes and much lower complications. This truly has changed the way I operate and my ability to offer more consistent results with less stress on the team and the patients."
Revolutionary hip pain treatment provides relief
Revolutionary hip pain treatment provides relief
"This surgery is a game changer — for athletes and for the 54-year-old woman who has a body that's started to break down."
Linda MacInnes
Linda MacInnes is a testament to the surgery's success. 
"The whole thing was remarkable," she says. "When I called, they said Dr. Kulidjian was doing an efficient direct anterior approach. I didn't know her or what that meant, but something in my gut trusted that. Just walking through the door, I knew it was right. She told me that the procedure was new and that it reduces recovery time. I'm all for new things, so I was ready for it."
MacInnes was further reassured by Dr. Kulidjian's understanding of the mechanics of her body and how her history of spinal fusions contributed to the degeneration of her hip. 
"She told me that it was common that my hip would become a secondary injury to my spine," she continues. "I was eager to jump both feet in. Having the experience of spinal fusion, which is at least a six-month recovery, I was ready for this. And it was so easy! It was only 40 minutes. Within just a few hours, I was able to stand up and walk down the hall. It was phenomenal."
MacInnes underwent the hip replacement surgery on October 6, 2020, and was released after 24 hours to recover comfortably at home. Currently working toward her master's degree in marriage and family counseling, she took a few days off from her role as a therapist intern and was seeing her own patients within a week and a half.
"Another great thing with this surgery was that I needed very little pain medication — that's very important to me," MacInnes says. "This surgery is a game changer — for athletes and for the 54-year-old woman who has a body that's started to break down. I've dealt with chronic pain my whole life. To finally be out of pain gives me a whole new lease on life."
Dr. Kulidjian is equally pleased with the results.
"Linda was a perfect patient in that she didn't overread or overthink," she says. "Some people come in with very specific ideas of what they want done, but surgery really needs to be a collaboration between the patient and the surgeon. She was a model in that she heard what the procedure was about, and we came up with a plan together. She believed in her ability to follow instructions and work hard in pre- and post-procedure to make her pain better. That type of open and transparent communication allows for as perfect an outcome as possible."
After surgery comes recovery, relief and renewal
MacInnes completed her physical therapy and rehabilitation online with Scripps. She continues to work out virtually with a personal trainer, focusing on simple strength-training, weightbearing and range-of-motion exercises. The risk of dislocation that comes with any hip replacement surgery means that her ability to stretch is limited. But she's walking her dogs regularly and living an active life, free of pain.
"My outlook is excellent," she says. "I've been able to do everything I've wanted. I've taken long road trips, driven eight hours at a stretch. I can't tell you how appreciative I am."
MacInnes lost her son in 2015 to an accidental opioid overdose when he was a college senior. Remembering him, she says, "It's been a rough life for us. He was my buddy; he was thoughtful and just a nice guy. He would tell me, 'Mom, go back to school, get your master's.' When he passed, it took a lot of therapy, but it was time to reinvent myself. That's when I decided to go back to school."
As she finishes her degree and channels her son's energy, spirit and passion for helping others, she's thankful for the opportunity she has to embark on a new chapter and for the people who helped her get here. MacInnes says it's always been easier for her to help others than to help herself, but that you get to a certain point when you need to take action.
"To have someone like Dr. Kulidjian think outside the box — we need more people like that," she says. "And we need more people like me who say, 'You know what you're talking about; we know the science is tried and true.' You don't have to live in pain."
MacInnes is proud of herself for making the decision to have the hip replacement done when she did. 
"Sharing my story reaffirms why I'm taking this journey," she concludes. "If I can help one other person, it's worth it. Dr. Kulidjian is such a lovely human being and an amazing surgeon. I trusted her completely, and I trust Scripps with my life."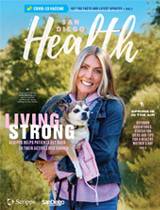 This content appeared in San Diego Health, a publication in partnership between Scripps and San Diego Magazine that celebrates the healthy spirit of San Diego.