Healthy Holiday Recipe: Bruschetta Crostini
Usher in the new year with this vegetarian appetizer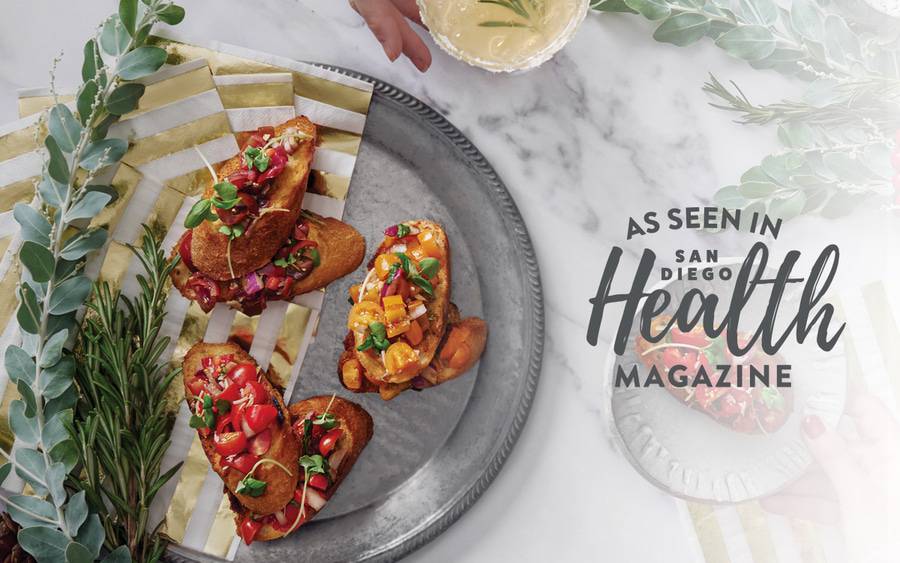 Usher in the new year with this vegetarian appetizer
Holiday parties aren't exactly known for their healthy food. Lighten up yours with these crispy crostini topped with antioxidant-packed tomatoes and basil. 
"This is a healthy addition to bring to holiday potlucks and parties, and it's also a really easy thing to make, which is great," says Caitlin Bradshaw, DO, a family medicine physician at Scripps Coastal Medical Center San Marcos. For an extra boost of fiber, she recommends substituting a whole-grain bread for the sourdough.
Dr. Bradshaw also has a few tips for navigating holiday parties without having to worry about what you're eating. First, focus on fruits and veggies. Fill half your plate with produce and eat your vegetables first, so you won't fill up on everything else. Second, plan ahead. Bring a veggie-forward dish to your next potluck to ensure there's always at least one healthy option.
Finally, make exercise part of the party. Step up your exercise routine during the holiday season and invite your friends and family to join in. Not every celebration has to revolve around food.
Ingredients: 
4 pieces sourdough baguette, sliced on a bias, 1 inch thick 
1 ounce olive oil
¾ cup quartered cherry or grape tomatoes
¼ cup diced red onion 
2 tablespoons shredded Parmesan cheese 
½ tablespoon minced garlic
1 ½ tablespoons chiffonade basil
1 ounce balsamic vinegar
Salt and pepper, to taste
Directions: 
Heat a sauté pan over medium heat. 
Brush both sides of the baguettes with olive oil and place them on the pan to toast. 
When the side touching the pan is golden brown, flip, season with salt and pepper and do the same on the other side. Remove bread from heat when finished. 
In a mixing bowl, combine the tomato, red onion, Parmesan cheese, garlic, basil and the rest of the olive oil and mix.
Add the balsamic vinegar to the bowl, then season with salt and pepper. 
Scoop the topping onto the crostini and enjoy!
Serving size: 2 Crostini
Calories: 258.8
Fat: 16.8 g
Saturated fat: 3.1 g
Cholesterol: 5.4 g
Sodium: 291 mg
Carbohydrates: 21.8 g 
Fiber: 1.6 g, Protein: 5.7 g  
This content appeared in San Diego Health, a publication in partnership between Scripps and San Diego Magazine that celebrates the healthy spirit of San Diego.