Fortune Names Scripps Health to Its 100 Best Companies List
Scripps makes prestigious ranking for 14th time; only San Diego County company honored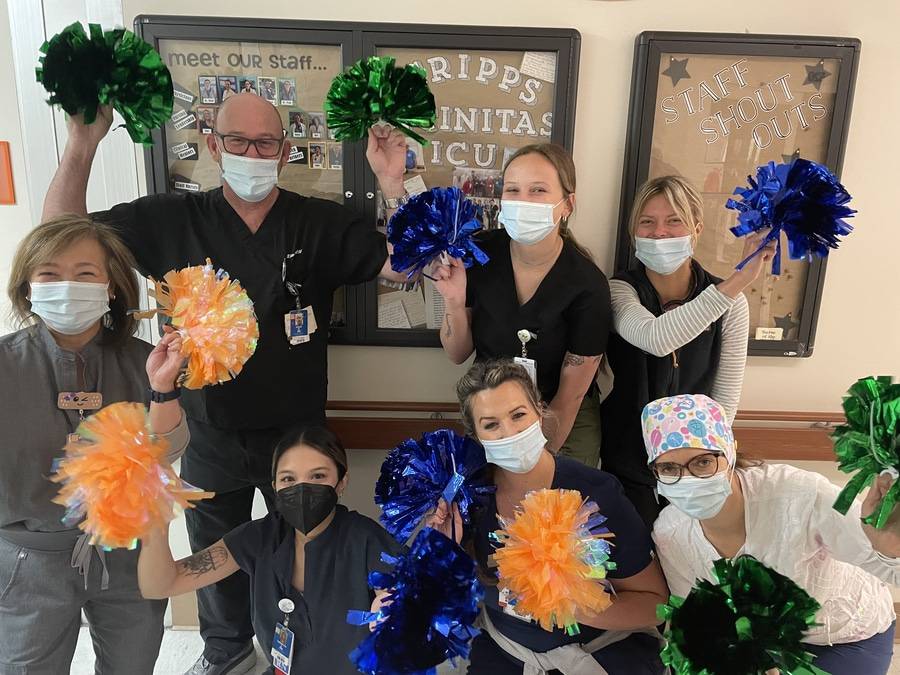 Scripps makes prestigious ranking for 14th time; only San Diego County company honored
Scripps Health has been named one of the top employers in the nation by Fortune magazine for the 14th time. The 25th annual 100 Best Companies to Work For list released today ranked Scripps No. 87, and it was the only San Diego County company to receive the honor.
With more than 20,000 employees, clinicians and volunteers at five hospital campuses and 28 outpatient centers and clinics, Scripps has created a high-performing, diverse workforce by accommodating the needs of its employees at the beginning, middle and later stages of their careers. Scripps touches more than 700,000 lives each year, which represents about one-quarter of the county's 3.3 million people.
"Trust, compassion and commitment are qualities Scripps staff demonstrate daily to our patients and each other. That has been especially evident during the unrelenting challenges of COVID-19, and a testament to why we have been recognized by Fortune's 100 Best list for the 14th time," said Scripps President and CEO Chris Van Gorder. "I couldn't be prouder of our organization for receiving this well-earned national recognition from Fortune."
Trust underpins Scripps' values
Fortune recognized Scripps' culture of trust, its efforts to protect staff during the pandemic and the company's empowerment of employees.
As one of San Diego's largest health systems faced a second year of COVID-19, its staff trusted Scripps to provide the best supplies and equipment despite reports of shortages worldwide. Early on, Scripps executives had anticipated supply chain issues and gave their supply chain management senior leader an unlimited budget, entrusting him to source the best-available price and material to protect patients and staff.
Scripps' care for its workers also included up to 80 hours of paid time off (PTO) for a variety of COVID-related situations. This program, which was created in addition to an employee's regular PTO hours, was implemented prior to the state mandating this for all companies operating in California.
With Scripps employees experiencing intense fatigue, both physically and emotionally, throughout the past year, the in-house Employee Assistance Program continued to provide important services to employees through a team of trained psychologists who help those dealing with a crisis, such as a major illness, a natural disaster or the loss of a loved one.
Another program, Resilience in Stressful Events (RISE), uses trained volunteers from across Scripps to provide psychological first aid through a peer-to-peer support system to physicians and staff members who need help. The assistance is available 24 hours a day, seven days a week.
As COVID-19 vaccines became available, Scripps leaders decided that first to receive the vaccine would be staff most at risk for contracting the virus, including those working with patients being treated for COVID and those who directly supported COVID units.
Next the focus of vaccination turned to equity and access. In addition to shots being available at all five Scripps hospital campuses and eight clinics throughout the county, front-line staff proposed a super station that would allow people to walk-up or drive-up for a vaccination. With executive support, the board quickly approved the proposal and, less than a month later, the super station opened at the Del Mar Fairgrounds. By June 30, 2021, the station had administered shots to 131,103 people.
"Nothing has tested our commitment to our mission, our community and each other more than the COVID-19 pandemic," said Eric Cole, corporate senior vice president of Scripps human resources department. "Around the clock, and throughout our many points of care, our physicians and staff have truly been there for one another. Our front-line managers have strived to address employees' evolving needs. And our executive team has provided proactive, empathetic leadership to keep us safe and see us through these uncertain times."
A staff proposal from Scripps Green Hospital to start a food drive to help co-workers struggling financially because of the pandemic grew into a donation program supported by departments systemwide. Employees donated food, gift cards and money through payroll deductions. The culinary services team secured donations from food vendors and prepared hot meals. In total, the program dispensed 34,891 pounds of groceries, 280 prepared meals, 390 gift cards ranging from $10 to $50, and payroll deductions from almost 596 employees and physicians totaling $43,490. These items helped 404 employees in need, serving 2,318 total family members.
"I am particularly proud that Scripps employees continued to rate the organization highly even as we continue to deal with the unprecedented challenges posed by the COVID-19 pandemic."
Chris Van Gorder, President and CEO
Throughout the pandemic, Scripps continued to provide a wide range of benefits and services that enabled employees to perform at the top of their skills while managing the challenges of home life. Family-friendly programs include childcare, flexible work arrangements and paid parental leave. Scripps also enables employees to adjust their job responsibilities as their family needs change.
And with five generations of employees working together at Scripps, close attention is paid to the needs of staff members who are age 50 or older, who make up 31% of employees and 42% of managers. And even after retirement, many employees continue to serve as Scripps volunteers, a testament to their commitment to the organization's mission to serve the community and its culture of excellence. 
According to a survey by Great Place to Work, Fortune's partner, 88% of Scripps employees say they are proud to tell others where they work and 93% feel good about how Scripps Health contributes to the community. Scripps also provides an environment where employees want to stay, with 35% of its workforce having worked for the organization for at least 10 years. An additional 13% have been with Scripps for at least 20 years.
"I am particularly proud that Scripps employees continued to rate the organization highly even as we continue to deal with the unprecedented challenges posed by the COVID-19 pandemic," Van Gorder said.
Great Place to Work is the global authority on workplace culture. They help organizations quantify their culture and produce better business results by creating a high-trust work experience for all employees. They use their benchmark data to recognize Great Place to Work-Certified companies and the best workplaces in the United States and more than 60 countries, including the 100 Best Companies to Work For list published annually in Fortune.
The Great Place to Work survey is America's largest ongoing annual workforce study, based on over 870,000 confidential employee survey responses and data from companies representing more than 6.1 million employees. Responses describe a great employee experience, defined by high levels of trust, respect, credibility, fairness, pride and camaraderie. Companies also provide organizational data such as size, location, industry, demographics, roles and levels.
Learn more about Scripps Health, a nonprofit integrated health system in San Diego, Calif.