Why Giving Back Is Good for Your Health
Volunteering or donating can trigger positive health effects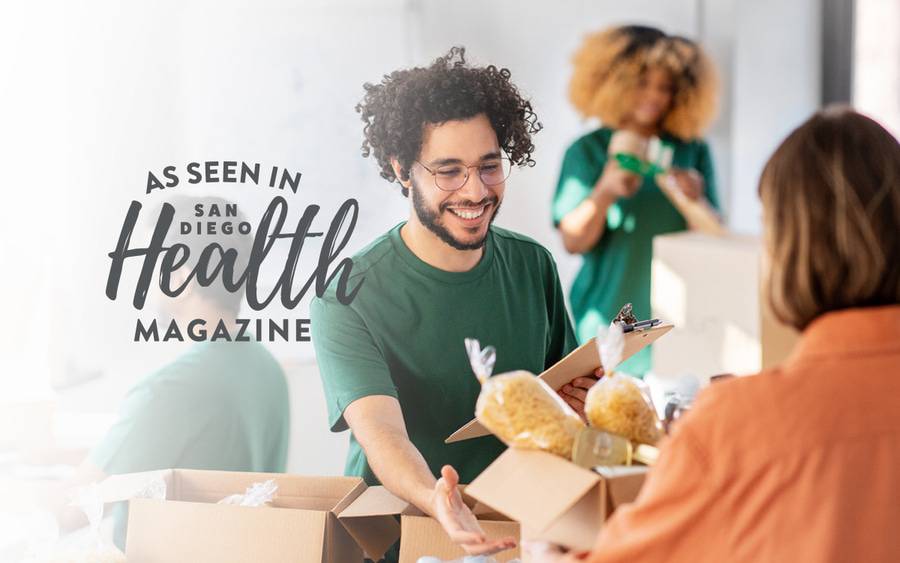 Volunteering or donating can trigger positive health effects
Volunteering your time or donating to a cause you care about can help many in the community. But did you know that focusing on the greater good benefits you as well? Research shows that giving back can boost both your physical and mental health. 
When we perform an altruistic act, the brain releases feel-good neurochemicals dopamine, serotonin and oxytocin and activates the mesolimbic pathway, the brain's reward center. Those actions in turn trigger a cascade of positive physical effects, including better sleep, lower blood pressure, lower stress, improved mental health and lower mortality rates, says Danielle Barnett, PsyD, Scripps Employee Assistance Program. 
"It's a domino effect," she says. "When we're producing all these feel-good hormones, it's having a physiological effect. And on the other side, people who have a purpose outside of themselves tend to have longevity." 
Social benefits of volunteering
Volunteering can also facilitate social connection. Many volunteers welcome the opportunity to share their skills and meet new people, and just two or three hours a week could be enough to provide significant health benefits. 
"The brain is wired for social connection," Dr. Barnett says. "Human connection and social support are huge factors in resilience and stress reduction. And it doesn't just apply to extroverts — even very introverted people still need a certain quality of connection." 
Donating promotes well-being
If volunteering isn't for you, there's still good news. Philanthropy also bestows altruistic health benefits, says Dr. Barnett. 
"With donating money, you still get a rush of hormones and of neurotransmitters. Even when you don't have that social connection, taking the time to donate to a cause is found to elicit the same kind of well-being," she says. 
It's easy to reap the health benefits that come with giving back. First, consider the cause you'd like to support. Not sure? Local nonprofit health care organizations, such as Scripps, are still facing pandemic-related challenges while continuing to plan for the changing needs of the community. 
Dr. Barnett recommends finding ways to support health care workers, whether that means making a financial contribution to a specific organization or department or dropping off gift baskets to help health care employees feel appreciated around the holidays. 
Many health care organizations also need volunteers. At Scripps, volunteers take on a range of patient support tasks, such as welcoming guests, comforting patients, creating crafts for patients and participating in the canine therapy program. 
"Small things can still really make a difference," says Dr. Barnett. "Waiting until you feel like you can do the ultimate charitable act is sometimes a barrier for people. Whatever you have time for and whatever you can financially do, you'll still get all these benefits and get to help others." 
To learn about volunteer opportunities at Scripps, visit our volunteer page.

This content appeared in San Diego Health, a publication in partnership between Scripps and San Diego Magazine that celebrates the healthy spirit of San Diego.