Fortune Names Scripps Health to Its 100 Best Companies List
Scripps makes prestigious ranking for 15th time; only San Diego County company honored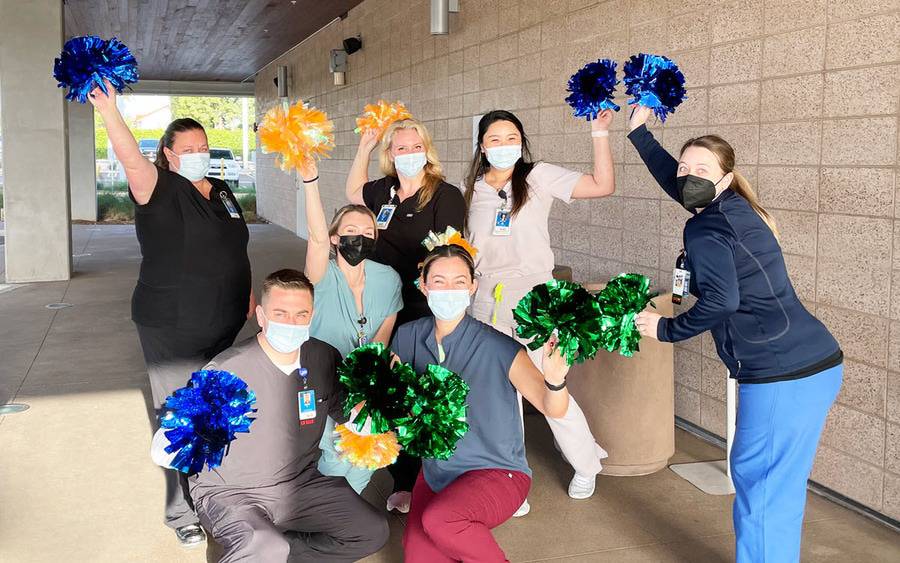 Scripps makes prestigious ranking for 15th time; only San Diego County company honored
Scripps Health has been named one of the top employers in the nation by Fortune magazine for the 15th time. The 26th annual 100 Best Companies to Work For list released today ranked Scripps No. 95. It was the only San Diego County company to receive the honor.
"Given the magnitude of the challenges being faced by hospitals now, I am particularly proud that Scripps remains on the list of top employers from all industries," said Chris Van Gorder, Scripps president and CEO.
Reflecting the pressure that hospitals across the country have been facing from a wide range of ongoing issues, a number of health care providers who have been on the list historically dropped off this year, leaving only Scripps and two others. 
"Caring is our mission. It drives everything we do," Van Gorder said. "That means caring for the community, as well as each other. The value we place on our people is evident through programs that support their development, self-care and well-being in the face of many challenges, and it is a central reason why we have been recognized by Fortune's 100 best list for the 15th time."
With more than 20,000 employees, clinicians and volunteers at five hospital campuses, including four acute care centers and 30 outpatient centers and clinics, Scripps has created a high-performing, diverse workforce by accommodating the needs of its employees at the beginning, middle and later stages of their careers. Scripps touches more than 600,000 lives each year, which represents about one-quarter of the county's 3.3 million people.
One-team culture perseveres
As Scripps faced many challenges through 2022, including increased violence against health care workers and transitioning to the new "normal" three years into the COVID pandemic, organization leaders worked together across facilities and roles to maintain a one-team spirit and positivity.
As the ongoing pandemic continued to take its toll on society, front-line health care workers industrywide experienced a dramatic increase in verbal abuse and violence, which demanded swift action by Scripps for their physical safety and mental health. A Be Kind initiative began with signs asking for kindness placed around Scripps facilities. Additionally, a letter was sent to all patients asking them to be kind, patient and understanding when dealing with exhausted health care workers. The news media covered the initiative, which spread the message further and generated a widely positive public response.
Meanwhile, more than 800 employees took part in a de-escalation course developed to address the issues that might lead to violence. Scripps also has supported proposed legislation at the state level that would increase penalties for perpetrators of violence against health care workers in California. 
"We hope to continue to be a catalyst for greater workplace safety in our state, nation and beyond," Van Gorder said.
Programs support and empower employees
Scripps' Work-Life Services program, partnering with the Employee Assistance Program (EAP) team, has continued its efforts to rally the resources needed to help employees in crisis. Each case is different, so help has ranged from assisting in finding childcare resources and securing a veteran's burial for a parent, to organizing the delivery of water, food, medications and pet care for an employee who became homebound with COVID-19 while in Mexico.
The team also manages the Helping Our Peers in Emergencies (HOPE) Fund, a program made possible by employee donations that provides paid time off (PTO) and financial assistance to employees in need. From June 2022 through March 2023, 28 employees received more than $52,000 in assistance and 12 employees received 326 hours of PTO.
During the Omicron surge in January 2022, a major blood shortage threatened San Diego County and prompted concern that a single mass trauma could deplete local supplies. While some suggested rationing blood supplies by using triage criteria, Scripps joined forces with other health systems in the county to share resources and to call for more blood donations to help alleviate the shortage. The community responded, and within three weeks the crisis that some had predicted would take six months to resolve had eased.
"Scripps' culture of trust, cultivated through accessible and authentic leadership, transparent two-way communication, collaboration and a one-team mentality, empowers employees to find novel solutions to obstacles that let them deliver the best care possible, said Eric Cole, corporate senior vice president of Scripps human resources department. "This recognition validates the power that the relationship between supervisor and staff holds in supporting the values of Scripps." 
Awarding Employee Resilience
In recognition of the ongoing and unprecedented challenges posed by the COVID pandemic, Scripps leaders awarded 14,107 employees at supervisor level and below a resiliency bonus totaling almost $9 million. It was followed by the largest amount of annual pay increases in more than 20 years, totaling $79.5 million in merit raises and market adjustments.
According to a survey by Great Place to Work, Fortune's partner, 83% of Scripps employees say it is a great place to work, compared to 57% of employees at a typical U.S.-based company. Additionally, 91% of Scripps employees say they are proud to tell others where they work and 90% feel good about how Scripps Health contributes to the community.
Great Place to Work is the global authority on workplace culture. They help organizations quantify their culture and produce better business results by creating a high-trust work experience for all employees. They use their benchmark data to recognize Great Place to Work-Certified companies and the best workplaces in the United States and more than 60 countries, including the 100 Best Companies to Work For list published annually in Fortune.
The Great Place to Work survey is America's largest ongoing annual workforce study, based on survey feedback from more than 1.3 million U.S. employees. Responses describe a great employee experience, defined by high levels of trust in management, connection with colleagues and loyalty to their company. Companies also provide organizational data such as size, location, industry, demographics, roles and levels.
Learn more about Scripps Health, a nonprofit integrated health system in San Diego, Calif.