Cardiac rehab for heart surgery and heart conditions in San Diego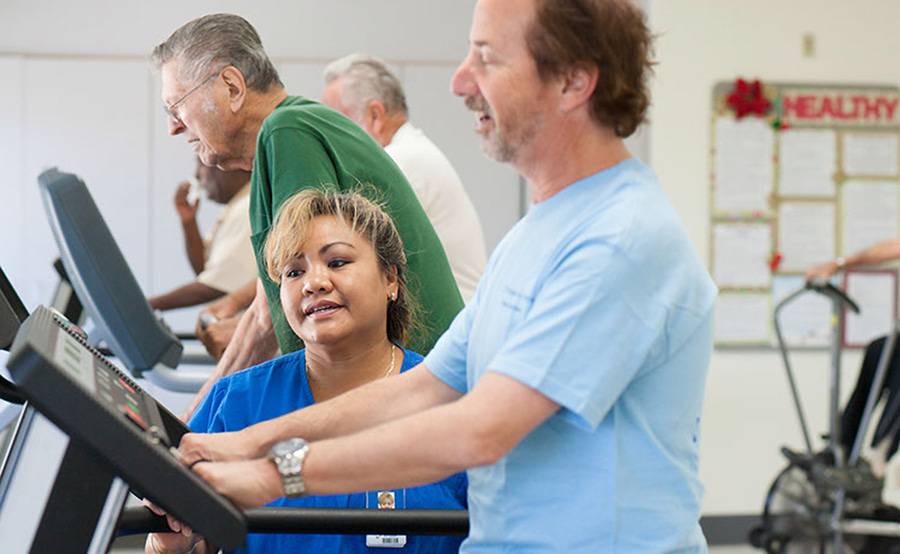 Cardiac rehab for heart surgery and heart conditions in San Diego
When your overall heart care plan with your cardiologist includes cardiac rehabilitation, turn to Scripps Health for a full range of cardiac rehab services. Consistently recognized as a heart care leader by U.S. News & World Report as one of America's Best Hospitals for cardiology and heart surgery, you get access to nationally renowned specialty care, a trusted doctor-patient relationship and distinguished expertise in heart rehab after-care.
Our cardiac rehabilitation program is specifically tailored for patients who have had a heart attack, coronary stents, heart surgery, a heart procedure, or heart device implant. Patients with congestive heart failure or signs of heart failure, pulmonary conditions, spontaneous coronary heart dissection (SCAD) and who've undergone procedures and treatments related to Postural Orthostatic Tachycardia Syndrome (POTS) have also experienced tremendous outcomes by choosing our cardiac rehabilitation program in San Diego.
What is cardiac rehabilitation?
Cardiac rehabilitation is a critical component of your recovery. Eligibility to participate requires a referral from your physician. Most patients are referred for three sessions per week for 12 weeks. This includes EKG monitoring. 
We are here to help you achieve your optimal physical, psychological and social well-being. It's much more than prescribed exercise to improve your cardiovascular fitness. A cardiac rehab program also helps you learn more about heart disease and the ways you can stabilize or reverse it, including:
Smoking cessation
Lowering cholesterol
Controlling high blood pressure
Losing weight and weight control
Improving and managing diabetes
Learning safe exercise, weight, strength and flexibility training
Developing healthier eating habits
Learning and education about your diagnosis and overall wellness
How will cardiac rehab benefit me?
Remember, cardiac rehabilitation is a journey. Think of it as taking important steps toward your heart care goals for improved heart health. You may find it challenging and you may experience difficult moments during rehab, but you also will find that the rewards are many — especially in helping you lower your risk of another cardiac event and readmission to the hospital.
Cardiac rehabilitation is also associated with the following benefits:
Reduces your cardiac mortality risk by 26%-31%
Improves your exercise capacity
Engagement in daily activities you might have missed
Decreases risk factors for heart disease and other illnesses
The cardiac rehabilitation program at Scripps Health
Here at Scripps, your health and safety are our top priorities. We have put specific safety measures in place to keep our patients, staff and visitors safe against COVID-19.
We customize an overall rehabilitation plan specific to the individual's health profile, heart condition and lifestyle factors. We emphasize the safest and most appropriate ways to regain strength and return to an active lifestyle. 
Our facilities include fitness centers with a full array of exercise equipment including treadmills, elliptical and seated exercise machines, weights, resistance bands, stability balls and other equipment.
Our rehabilitation services bring together a multidisciplinary care team of experts to create your individualized cardiac rehab plan. This collaborative approach ensures you receive appropriate exercise and dietary regimens throughout your rehabilitation, and supports you as you learn to develop better lifestyle choices to support your overall heart health.
A Scripps cardiac rehabilitation team includes:
Supervising physician (available during all sessions)
Registered nurses
Exercise physiologists
Respiratory therapist (for pulmonary rehab patients)
Registered dietician 
Medical assistants and exercise instructors as necessary
Scripps Health cardiac rehabilitation program locations
We offer cardiac rehabilitation services at three locations:
Experience excellence in cardiac rehab at Scripps
Scripps Health knows the importance of good heart health and its impact on your life and livelihood. As a well-recognized, consistent leader in heart care excellence, we are committed to caring for you before, during and after your heart procedure, and we are dedicated to helping you achieve your health goals and improving the quality of your life. So, when you're searching for "cardiac rehabilitation near me" on your device — or, when it's just top of mind on your heart care journey following a heart event — look no further than our trusted care. 
In addition to our full-service cardiac and pulmonary rehabilitation programs, we offer community classes that can provide heart patients greater awareness about heart disease, as well as emotional support and motivation for a healthier lifestyle.
We also encourage you to access our newsletters and read the Scripps news items on our website that contain important information about heart health and wellness. Sign up for our newsletter here.