Cardiac rehab for heart surgery and heart failure in San Diego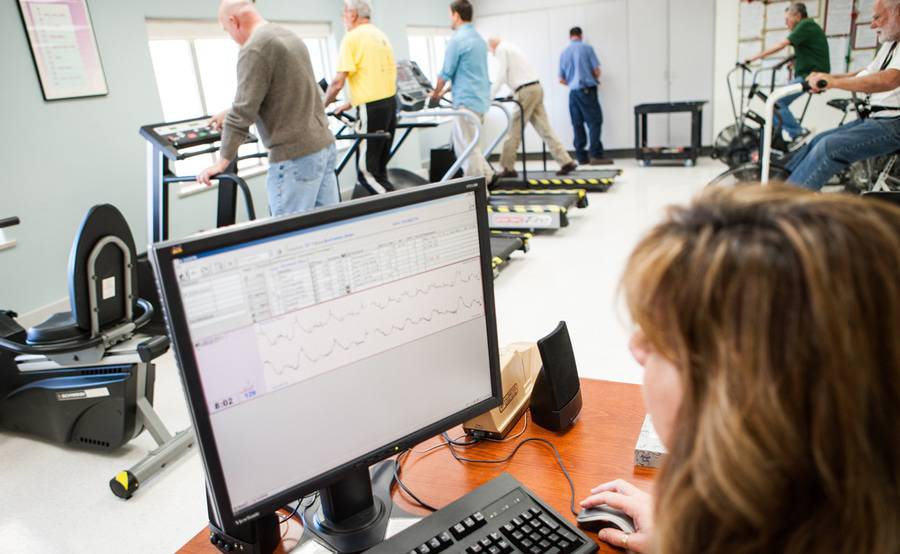 Cardiac rehab for heart surgery and heart failure in San Diego
Scripps offers a full range of services for cardiac rehabilitation (also called cardiac rehab) that is typically part of an overall care plan for patients who have had heart surgery, a heart procedure, or device implant, such as a pacemaker or defibrillator. Patients with congestive heart failure have also been shown to benefit from a cardiac rehabilitation program.
Our rehabilitation services bring together a care team of experts to create individualized plans that help heart patients establish appropriate exercise and dietary programs and make lifestyle choices to support heart health. 
We offer cardiac rehabilitation services at three locations:
Scripps offers a full range of heart-healing services, including integrative medicine, as well as classes and support groups.
A cardiac rehabilitation team at Scripps may include:
One or more physicians (primary care, cardiologist, surgeon)
Nurses specializing in cardiovascular care
Exercise physiologist
Dietitian or nutritionist
Physical and occupational therapist
Counselor or other mental health professional
What is cardiac rehabilitation?
Getting through a heart problem or surviving a life-threatening heart condition can be difficult. It represents a first step in longer-term recovery with the ultimate goal of a stronger, healthier heart and improved quality of life.
Scripps recognizes that the best healing happens when patients feel supported physically, emotionally and mentally during health challenges. Our cardiac rehabilitation program is designed to help patients recover from heart procedures or surgery as well as gain control over their own health by taking an active role in their recovery.
Cardiac rehab is unique to each patient. Some may not be immediate candidates for exercise because of very high blood pressure or severe heart disease. Plans are tailored to a patient's specific health profile and heart condition with an emphasis on the safest and most appropriate ways to regain strength and return to an active lifestyle.
Cardiac rehabilitation programs may include:
Safe, monitored exercise with weights and cardiovascular equipment in one of our fitness centers at Scripps facilities
Dietary changes and counseling
Patient education about lifestyle changes to minimize risks of additional heart problems
Patient education on ways to reduce and manage stress
Smoking cessation
Management of high blood pressure and cholesterol
Treating the whole person
In conjunction with our cardiac rehabilitation program, Scripps offers complementary medicine services at the Scripps Center for Integrative Medicine in La Jolla, which include:
Integrative treatments and therapies, such as acupuncture, advanced lipid testing, biofeedback, enhanced external counterpulsation (EECP), therapeutic yoga, music therapy and more
A fitness center with weights, cardiovascular equipment, as well as a heated lap pool
Community classes, group support and information
Scripps offers community classes that can provide heart patients greater awareness about heart disease, as well as emotional support and motivation for a healthier lifestyle.
We also offer access to newsletters and Scripps news items with timely information on integrative heart health and wellness. You can easily sign up for our newsletter here.