Cardiac Arrhythmia Treatment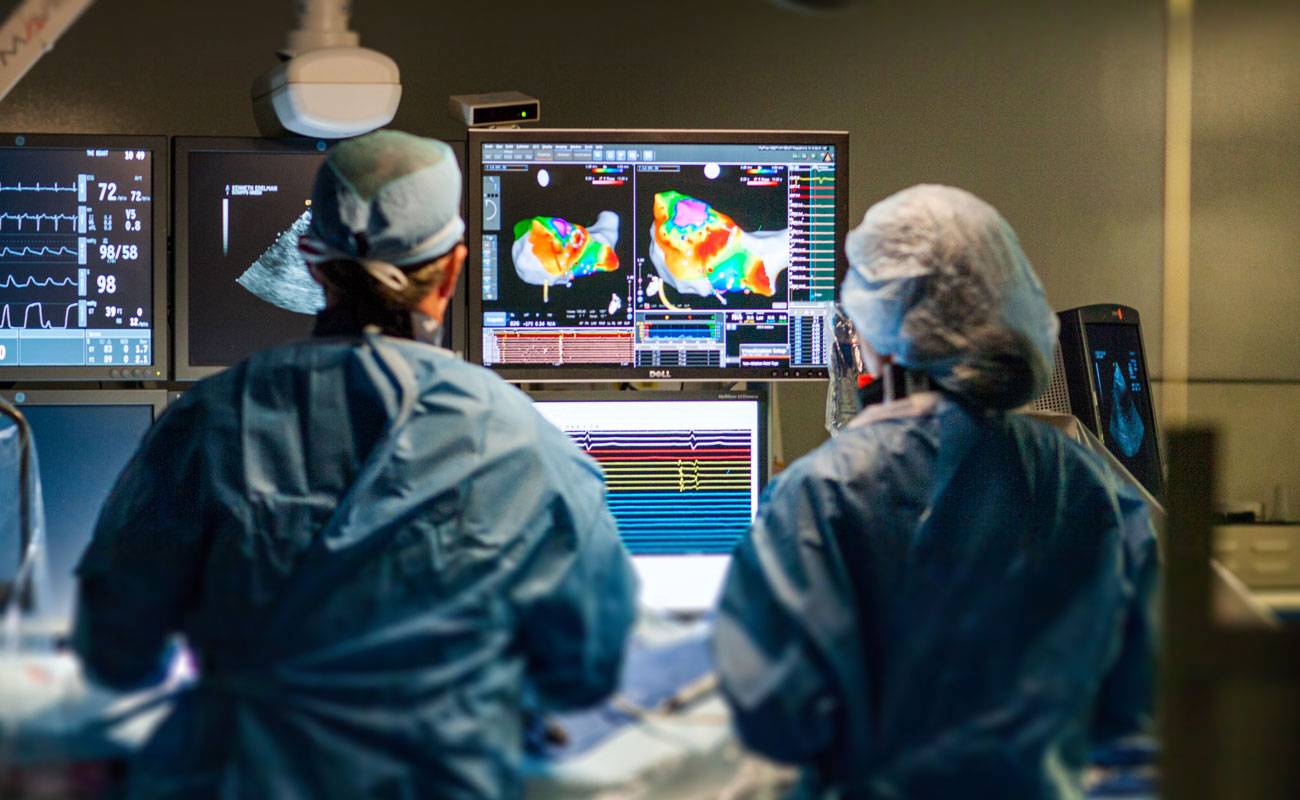 Scripps Provides Advanced Care for Cardiac Arrhythmia
Scripps board-certified cardiac electrophysiologists diagnose and treat more patients with abnormal heart rhythms than any other San Diego health care provider. These dangerous heart conditions — whose episodes often occur intermittently — are also known as heart arrhythmias.
Scripps electrophysiologists work hand-in-hand with your primary care physician, cardiologist and medical colleagues across multiple specialties and sub-specialties to provide the best possible treatment and options for all types of arrhythmias.
Why choose Scripps
There's one choice for heart health in San Diego: Scripps.
Scripps Green Hospital and Scripps Memorial Hospital La Jolla are ranked as among the best in San Diego for cardiology and heart surgery, according to U.S. News & World Report's prestigious annual ratings. This means the cardiac care you receive at Scripps is not only the highest rated in San Diego, it's among the best in America.
National honors and a history of pioneering "firsts"
Scripps Health has also been named among the 15 top health systems in the U.S. by international business research firm Truven Health Analytics. We're consistently on the leading edge of cardiovascular treatment breakthroughs and newest ways to treat heart conditions. Among Scripps achievements:
First California health care provider to perform surgery to treat and cure arrhythmias
First U.S. health care provider to implant dual-chamber defibrillators for the successful treatment of arrhythmias
Second in the world to implant a transvenous biventricular defibrillator
First in California to study the Watchman device for a left atrial appendage closure
First hospital in the Western U.S. to utilize new radiation reduction 3-D imaging for ablation
Scripps electrophysiology (EP) lab locations
Electrophysiology (EP) labs are offered at the following Scripps Health locations in San Diego County:
Scripps Clinic Torrey Pines
858-554-5257
Scripps Memorial Hospital La Jolla
858-626-6285
Scripps Mercy Hospital San Diego
619-260-7001
Scripps Mercy Hospital Chula Vista
619-691-7366
Scripps News
Classes & Events