Where family and workplace come together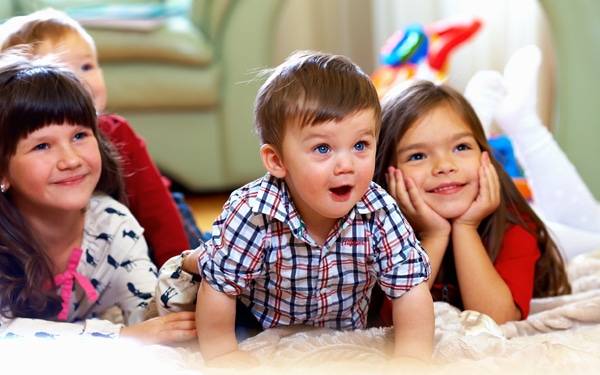 Where family and workplace come together
The Gluck Child Care Center was established in 1993 to provide child care services to the employees of Scripps Health and The Scripps Research Institute.
The center serves children ages 3 months to 6 years of age in eight age-appropriate classrooms. The hours are 6:45 am - 6 pm. The program is staffed by fully-qualified, accomplished teachers. Parents are always welcome and encouraged to visit. Our philosophy of education is to provide an integrated curriculum in which imagination and self-expression flourish.
The children's daily experiences include:
Creative arts
Music and movement
Critical thinking and problem solving
Science
Language and literacy development
Social interactions with peers
The center is licensed by the State of California, Community Care Licensing (license nos. 372006511,12).
The tuition fee schedule for the Gluck Child Care Center explains registration fees, monthly rates, additional rates and drop-in rates. View the tuition fee schedule (PDF, 78 KB).
Often, more families would like to enroll in The Maxwell H. and Muriel Gluck Child Care Center (a non-profit corporation) than we can accommodate. For interested families who cannot yet enroll, we maintain a "waiting pool." When a space becomes available at our child care facility, we use the waiting pool to determine who will be offered the available opening.
This process can be complicated. The waiting pool is carefully maintained to include those who are actively seeking placement in the center. Therefore, it is important that all concerned know and understand the waiting pool policies and procedures.
Waiting pool policies and procedures
Enrollment
Enrollment is based on availability. Families that are currently enrolled are asked to provide a 30-day written notice when they leave the center. If the openings cannot be filled with a child who is currently enrolled, the waiting pool is utilized.
Priority
Priority in the waiting pool is currently given in this order:
Employees of the center
Siblings of Scripps Health children currently enrolled in the center
Siblings of The Scripps Research Institute (TSRI) children currently enrolled in the center
Scripps Health employees
The Scripps Research Institute employees
Siblings of community children currently enrolled in the center
Community members not affiliated with either Scripps Health or TSRI
Prediction of openings
Although it may be frustrating, it is impossible to predict when or if your child will be able enroll in the center. This is due to many factors.
These factors include:
Current openings in the center
Professional affiliation and date of application
Developmental level of the children enrolled and on the waiting pool
Current age of your child (infant care is most sought)
Ages and genders of other children in the class your child would enter. An effort is made to spread out ages within the stated range. The older groups are also enrolled by balancing boys vs. girls
Status of families ahead of you in the waiting pool who may have already found alternative childcare and have not removed their names from the pool
Contacting families
We make every reasonable effort to contact families in the waiting pool when a space becomes available, via email. If there is no response within 24-hours of our attempted notification, the next eligible family will be contacted. Therefore, application information must be kept current (i.e. phone number, email address, etc.) so we may contact you on a timely basis.
If your family chooses not to accept an opening, your application will move to the bottom of the waiting pool or you may request that your name be removed. You will be offered an opening approximately one month out. You can accept that start date or pass up the placement.
Applications
The Gluck Child Care Center will only discuss your application with the sponsor names provided. Please, do not have someone else call regarding your application. It is not necessary to mention the names of co-workers, employees or friends who work at Scripps Health or TSRI. It does not affect the status of your application. If you would like to apply to the Gluck Child Care Center, please fill out the Waiting Pool Application.
Tours and visits
When an opening arises and you are contacted, we will tour you in the designated classroom so you can meet the teachers and get to know the program better before enrolling. Remember, we will call you when an opening comes available for your family. Until then, please make alternate arrangements.
An unannounced visit made by the Waiting Pool applicants disrupts the day to-day operations of the Center. It is more effective to e-mail with questions at gluck@scrippshealth.org, but please remember it is impossible to predict when an opening will become available as stated above.
*These policies and procedures have been approved by the Scripps Health and they retain the right to change them without notice.
If you would like to apply to the Gluck Child Care Center, please fill out the Waiting Pool Application.
We will contact you when an opening is available.
How long will I have to wait before there is an opening for my child?
The waiting pool is quite lengthy. Over 350 children are in the waiting pool. Gluck Child Care Center has a licensed capacity of 126 children. Unfortunately, we cannot predict when an opening becomes available. Please refer to our waiting pool policies and procedures for more details. At times, we have had parents on the waiting list longer than three years for an opening. Most openings occur during the summer and fall months and in the Toddler program (ages 2-3). We seldom enroll children in our Preschool or older infant program from the waiting pool as it is usually filled with children moving up to those classrooms.
Can I stop in anytime to view the center and to see where my child's application is in the waiting pool?
Currently, we are only touring families once they are offered an opening in the center. We will then give you time to tour, meet the staff and see the classroom before you make the decision to enroll. Our main priority is to provide a safe and secure environment for the children. It is best to email the center with any questions that you may have to gluck@scrippshealth.org as it is an interruption to the daily operation of the center when parents just stop in. Emailed questions will be answered within one to three business days.
If I filled out an application over a year and a half ago when my child was 6 months and now they are 2 years old. Do I go to the bottom of the waiting pool, or do I need to fill out a new application to be considered for the toddler classroom?
No, to both questions. Your application will be automatically added to the toddler waiting pool by your original date of application.
How did someone who filled out an application after I did get an opening before me?
There are many different reasons why this might occurred, but the most common are:
Your preferred starting date is after theirs
The opening is in a different age group
What should I do if I need to change any information on my child's application (i.e. phone number, address, start date, days needed, etc.)?
Please send us an email with your child's name, birth date, work affiliation and any changes that you would like to make on your application to gluck@scrippshealth.org.
Can you recommend any other center or child care provider while I am waiting for an opening?
We do not make any recommendations. However, you can call YMCA Child Care Referral at 800-481-2151 for information regarding other centers.
Another parent told me …
Helpful friends, co-workers and acquaintances sometimes inadvertently provide misinformation. To get accurate answers to your questions about Gluck Child Care Center, please email your questions to gluck@scrippshealth.org. Emailed questions will be answered within one to three business days.