Communication in the Age of Twitter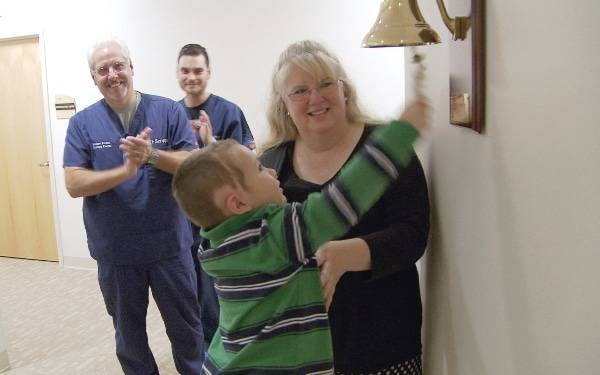 I've been active on Twitter for about a year and a half, and I still get surprised by the power of the online social network.
The latest example surfaced a few weeks ago when I received the following message from Kathy Contes, the mother of 4-year-old James:
"We've had a FAB experience at your proton center. I would like to invite you to my son's bell ringing ceremony on 11/13"
Let me provide some background. James, who lives in Phoenix with his mom, twin sister and older brother, was a patient at our Scripps Proton Therapy Center for just over a month this fall where he received radiation treatment for a brain tumor. He marked the end of his therapy by ringing a bell mounted on a center wall, a tradition that is followed at hospitals across the country. His mom gave me the okay to share his story in this space.
When I received Kathy's invitation through my Twitter handle @ChrisDVanGorder, I gladly accepted.
As part of the ceremony, James signed his name to a special poster-sized, superhero-themed drawing made by the Proton Center's first pediatric patient, Natalie Wright. Like Natalie, James wore a special mask that kept his head perfectly still during treatments, and it was decorated in honor of his favorite superhero — Spider-Man. His treating physician, Andrew L. Chang, MD, also a superhero fan, wore a Spider-Man themed shirt for the bell ringing.
I can't express how wonderful it was to share in this joyous expression of accomplishment with James, his mother and our amazing team of physicians, nurses and technologists who provide state-of-the-art care at the center. I think they're all superheroes.
I've long believed in the power of direct communication to connect with the front line of your organization and to build a better understanding of how your actions affect your customers or, in the case of Scripps, our patients.
Kathy's communication with me through Twitter was a perfect example of that philosophy. I was able to connect with a grateful mom who spent more than a month at our center watching her son battle a debilitating disease. I witnessed first-hand the results of the care delivered by our physicians and staff. And, best of all, I got to interact with a wonderful boy whose life has been forever altered by his experience at Scripps.
You can't have days like that if you spend them isolated in the C-suite.