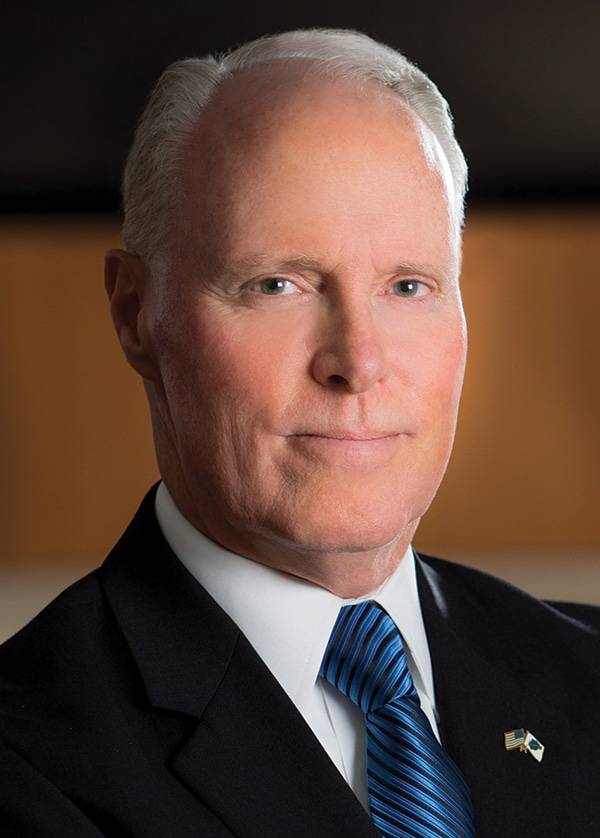 Chris Van Gorder, FACHE
President and Chief Executive Officer, Scripps Health
As president and CEO of Scripps Health since 2000, Chris Van Gorder has been instrumental in positioning Scripps among the nation's foremost health care institutions. 
Board-certified in health care management and an American College of Healthcare Executives (ACHE) Fellow, Van Gorder oversees all functions of the San Diego-based integrated health system, including its five acute-care hospital campuses, dozens of outpatient centers, the Prebys Cardiovascular Institute and the Scripps Cancer Center. 
Nearly 17,000 employees and 3,000 affiliated physicians provide care at Scripps, which has made Fortune magazine's "100 Best Companies to Work For" list for 14 years and is regularly recognized as a best hospital in the nation by U.S. News & World Report.
Van Gorder's rise to health care executive has been unconventional. His journey began as a hospital patient, when as a police officer he was critically injured during a family dispute call. After a lengthy recovery, Van Gorder continued his education in health care management and rose to levels of increased responsibility.
Van Gorder received his master's degree in public administration/health services administration at the University of Southern California, completed the Wharton System CEO Program at the University of Pennsylvania and earned his bachelor's degree from California State University, Los Angeles. In 2006, California's governor appointed him to the California Commission on Emergency Medical Services (EMSA), where he served two terms. He also is a past chairman (2010) of the American College of Healthcare Executives.
Van Gorder was part of medical history following Hurricane Katrina in 2005, when U.S. Surgeon General Richard Carmona, MD, asked a Scripps medical unit to staff a clinic for hurricane survivors in the Houston Convention Center. The request for Scripps' assistance marked the first time the federal government asked a private health care organization for long-term support for a nationally organized disaster relief plan. The Scripps Medical Response Team (SMRT) has since provided medical support following the 2007 San Diego County wildfires; the devasting 2010 earthquake in Port au Prince, Haiti; the 2015 earthquake in remote areas of Nepal; and in 2018 following the destructive "Camp" Fire that destroyed all of Paradise, California. The team's disaster experience was instrumental in Scripps' recent response to COVID-19 and Scripps is often called upon to provide counsel to local, state and federal disaster efforts.
In 2010, Van Gorder announced a new direction for Scripps Health. In anticipation of dramatic change in health care, he "turned the organization on its side," creating a horizontally matrixed management structure to identify and significantly reduce unnecessary variation in patient care and health care operations. The approach led to more than $400 million in performance improvements from 2011 to 2015. 
Now focused on regional growth and expansion and an exceptional patient experience, Van Gorder recently established a unique dyad leadership model where administrators and physicians co-lead health care operations. Likewise, he created Scripps' innovative Model Care program, harnessing the ideas and experience of front-line staff and physicians to completely redesign patient care, one careline at a time.
In January 2023, Van Gorder retired as Reserve Assistant Sheriff for San Diego County after 20 years of service in the Sheriff's Reserves. He has been recognized with the ACHE Gold Medal Award and with USC's prestigious Guardian Award for his contributions to health care services and his commitment to the community. He has also been honored with the Maltese Cross Award by the San Diego County Fire Chiefs, the MedAssets Outstanding Humanitarian Award and the distinguished B'nai B'rith National Healthcare Leader award, among others. 
His first book — The Front-Line Leader: Building a High-Performance Organization from the Ground Up — was published in November 2014.