Spirit of Katrina Mission Still Rings True 10 Years Later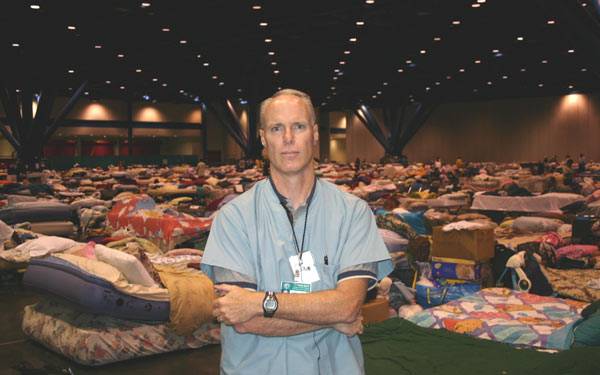 A decade ago this weekend, Hurricane Katrina was bearing down on the Gulf Coast with ferocious winds and a deadly storm surge that soon would rank the storm as the most costly natural disaster and the fifth most deadly one ever to hit the United States.
As television news crews beamed shocking images of destruction and misery from the hardest hit areas, here at Scripps Health we knew we had to do something to help.
Our disaster response team was still in its infancy, having been established only a few years earlier in the wake of the Sept. 11, 2001 terrorist attacks.
Immediately after Katrina made landfall, we contacted U.S. Surgeon General Richard Carmona and offered our assistance. Two weeks later we received a request from the U.S. Department of Health and Human Services to relieve an exhausted team of physicians and nurses from the University of Texas Medical Center that had been staffing a temporary clinic for Katrina victims in the George R. Brown Convention Center in Houston.
Over the next six weeks, 67 staffers from Scripps traveled to Houston as part of three separate response teams. More than 400 people actually applied to be part of the mission.
In all, the response teams treated 5,200 patients suffering from a wide range of conditions while staffing clinics 24 hours a day. Many of the hurricane victims had gone weeks without their medications, leaving their chronic conditions unchecked and out of control in some cases.
But some of the biggest needs involved mental health – depression, anxiety, post-traumatic stress. And some of the most important care delivered by our teams didn't involve drugs or bandages. Instead, they gave a needed hug, offered kind words or were there to listen, and even shed compassionate tears.
As I look back on the past decade and our other medical missions — to Haiti after the 2010 earthquake and to Nepal after the terrible earthquake there last April — I know what I wrote to Scripps employees at the end of the first part of our Katrina deployment still rings true:
"I was touched by the compassion which each member of the team showed to Katrina survivors, to each other and to health care providers from other organizations who were doing their best to help. I was touched by the teamwork each member of the team demonstrated and the pride we all had in Scripps as our sponsoring organization. And I was touched by the many notes of support we received from you each day we were away from home. You were there with us – I promise you that."
— Tuesday, Sept. 27, 2005
For more of my thoughts about the 10th anniversary of Hurricane Katrina, listen to this interview I gave earlier this week during the "Midday Edition" program on KPBS radio in San Diego: San Diegans Reflect on 10-Year Anniversary of Hurricane Katrina