At Scripps, we always care about the health and safety of our patients, but never more so than now. With extra precautions in place, we welcome you back for all your health care needs — including primary, specialty and emergency care. Scripps is here for you.
How we are keeping you safe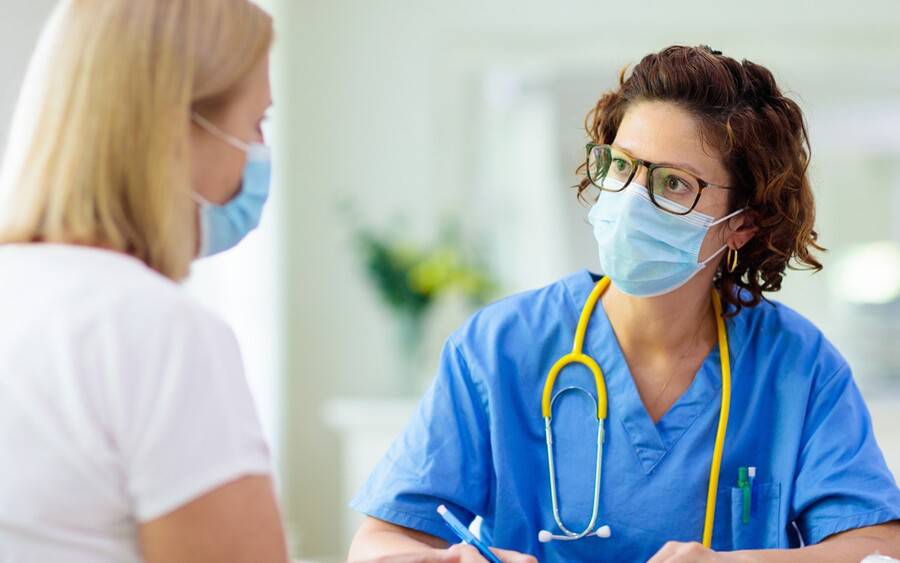 How we are keeping you safe
To make sure you get care safely, we are taking the following precautions:
Screenings for everyone entering our facilities
Required face coverings for all physicians, staff and patients
Curbside check-in option and social distancing in waiting rooms
Rigorous cleaning and disinfection for all facilities and equipment
Limited visitors to all our facilities (see our visitation policy)
If you suspect you have COVID symptoms, visit MyScripps and answer the COVID-19 Symptom Checker questions. This will lead to appointment scheduling if indicated. 
We've answered some questions about the coronavirus — information about the vaccine, how to protect yourself and what to do if you need care not related to COVID-19.
In alignment with county recommendations, we are restricting visitors from our hospitals and clinics. Some exceptions may apply as determined by the caregiving team.
As we continue to treat COVID-19 patients, please know our doctors are still here for you, both virtually and in-person. Some conditions may still require a visit to your doctor's office.
Scripps has developed the COVID Recovery Program for our patients who have been previously infected with COVID-19 and are experiencing lingering complications. 
Frequently asked questions
What are the symptoms of COVID-19?
People with COVID-19 have had a wide range of symptoms reported – ranging from mild symptoms to severe illness.
According to the Centers for Disease Control and Prevention (CDC), symptoms may appear 2-14 days after exposure to the virus. People with these symptoms may have COVID-19:
Fever or chills
Cough
Shortness of breath or difficulty breathing
Fatigue
Muscle or body aches
Headache
New loss of taste or smell
Sore throat
Congestion or runny nose
Nausea or vomiting
Diarrhea
This list is not all inclusive. Please consult your medical provider for any other symptoms that are severe or concerning to you. Older adults and people who have severe underlying medical conditions like heart or lung disease or diabetes seem to be at higher risk for developing more serious complications from COVID-19 illness.
When to seek medical attention for coronavirus?
If you have any of these emergency warning signs* for COVID-19 get medical attention immediately:
Trouble breathing
Persistent pain or pressure in the chest
New confusion or inability to arouse
Pale, gray, or blue-colored skin, lips, or nail beds, depending on skin tone
*This list is not all inclusive. Please consult your medical provider for any other symptoms that are severe or concerning to you.
Call 911 if you have a medical emergency: Notify the operator that you have, or think you might have, COVID-19. If possible, put on a cloth face covering before medical help arrives.
How can I best protect myself and others from coronavirus?
The best way to prevent illness is to avoid being exposed to this virus. The virus is thought to spread mainly from person-to-person between those who are in close contact with one another (within about 6 feet). This occurs through respiratory droplets produced when an infected person coughs or sneezes. These droplets can land in the mouths or noses of people who are nearby or possibly be inhaled into the lungs.
To protect yourself and others:
Get vaccinated and stay up-to-date on your COVID-19 vaccines.
Inside your home: Avoid close contact with people who are sick, if possible. If possible, maintain 6 feet between the person who is sick and other household members. If you are taking care of someone who is sick, make sure you properly wear a well-fitting mask and follow other steps to protect yourself.
Indoors in public: If you are not up-to-date on COVID-19 vaccines, stay at least 6 feet away from other people, especially if you are at higher risk of getting very sick with COVID-19.
Test to prevent spread to others.
Wash hands with soap and water.
Clean and disinfect frequently touched surfaces daily. If surfaces are dirty, clean them using detergent or soap and water prior to disinfection.
Avoid touching eyes, nose or mouth with unwashed hands.
Cover your mouth and nose with a tissue when you cough or sneeze, then throw the tissue in the trash and wash your hands. If a tissue is unavailable, cough or sneeze into your bent elbow.
Avoiding close contact with people who are sick.
Wear a face cover if you have to go out in public where other social distancing measures are difficult to maintain (e.g., grocery stores and pharmacies) especially in areas of significant community-based transmission. Note, masks with small plastic valves are not being permitted at Scripps. While they protect the wearer, they do not protect others, and you'll be asked to put on a different mask. Neck gaiters, which can be pulled over the mouth and nose as needed, are also not being allowed.
Is it safe to go to the hospital or a doctor's office? 
At Scripps, everything we do, we do to protect the health and safety of our patients, staff and clinicians. That is why we are thoughtfully and cautiously phasing in a return of services to make sure that you can access the care you need when you need it. 
Rest assured that our clinics and hospitals are safe places to receive medical care for everything from preventative health visits at our outpatient clinics to heart care and cancer treatments at our specialty clinics to immediate medical issues at our urgent care facilities and emergency rooms.
What safety measures against coronavirus are taking place? 
To protect everyone who enters our facilities, we also have put in place safeguards to protect team members and patients. Enhanced infection prevention and safety measures include:
Isolating patients with coronavirus 
Maintaining enhanced visitor restrictions at all our hospitals and clinics
Requiring all physicians, staff members, patients and visitors to wear face coverings
Rigorous cleaning and disinfecting protocols for all facilities and equipment
COVID-19 testing for all patients being admitted to the hospital, OB patients and those scheduled for surgery
Patients and visitors to all Scripps facilities should bring their own face coverings with them to help protect themselves and others. Note, masks with small plastic valves are not being permitted at Scripps. While they protect the wearer, they do not protect others, and you'll be asked to put on a different mask. Neck gaiters, which can be pulled over the mouth and nose as needed, are also not being allowed.
How can I support Scripps in the fight against COVID-19?
Many people have asked what they can do to help our doctors and staff. While we continue to ensure our physicians, nurses and staff have the resources they need to safely care for patients, we have set up a special Scripps COVID-19 Fund to directly support our response to the health care needs of our community during this unprecedented time.
Gifts made to the Scripps COVID-19 Fund will help us pay for supplies, care for patients and support the staffing and operations fully focused on combating this virus and keeping our community safe. You can also share a message of thanks and inspiration using our online tribute form.
Can I get a note from my doctor clearing me to return to work after recovering from coronavirus?
Scripps Health physicians and care providers will not be supplying letters to patients to "clear" them of COVID-19 in order to return to work. This is in accordance with the guidelines set forth by the CDC that state, "employers should not require a positive COVID-19 test result or a healthcare provider's note for employees who are sick to validate their illness, qualify for sick leave, or to return to work."
At this time, Scripps does not recommend using a negative COVID-19 test result as a "return to work" criteria due to uncertainties of testing reliability, accuracy and capabilities. Rather, Scripps providers recommend that patients have NO symptoms for at least 3 days before returning to work. 
For further guidance on returning to work, visit: 
Can I get a note from my doctor for travel cancellations during the coronavirus pandemic? 
Physician notes for travel cancellations will only be written for confirmed illness during time of expected travel. In some cases, trip cancellation insurance can protect your financial investment in a trip if you need to change your itinerary in the event of an international outbreak, such as this. We recommend working with your travel agency, hotel or airline regarding refunds. Please visit the CDC's Coronavirus Disease 2019 travel information page for the most up-to-date information on travel recommendations and restrictions.