Maternal and Child Health (Maternity Services)
Scripps Memorial Hospital Encinitas

354 Santa Fe Drive

Encinitas

, CA 92024 US
Directions
Visiting Hours

8 a.m. - 8:30 p.m.
Visiting hours may be adjusted based on the patient's needs or wishes.

Emergency Services

The ER is open 24 hours a day, 7 days a week.

Pharmacy

Monday - Friday, 9 a.m. - 5:30 p.m.
858-964-1012

Parking

Parking is free. Valet parking is $5.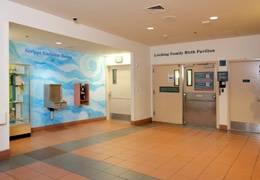 The Leichtag Family Birth Pavilion
The Leichtag Family Birth Pavilion offers the most advanced medical care in a soothing, secure environment. The pavilion's beach-themed environment offers a warm and inviting atmosphere, with seascape artwork lining the walls and floors that resemble textured sand, water and waves.
Take a photo tour of our birth pavilion
A special place for moms and babies
The Leichtag Family Birth Pavilion features:
Holistic approaches to patient care and can accommodate many birth plans
Physician-attended delivery or delivery by a certified nurse-midwife
A level I nursery, where newborns can be taken temporarily for health screenings and procedures
A six-bed Level II neonatal intensive care nursery
Sweet Success Program for pregnant diabetic women
San Diego County's first World Health Organization-designated Baby-Friendly birth pavilion. Read more about Baby-Friendly hospitals.
Lactation support
As a Baby-Friendly hospital, the Leichtag Family Birth Pavilion features the breastfeeding supply store, "Nursing Nook," with all the supplies and advice you need to successfully breastfeed. Nursing Nook is located in the birth pavilion and is open every day from 9 a.m. – 4 p.m. For more information or to speak with a lactation specialist, call 760-633-7850.
Scripps hospitals and lactation stores carry breast pumps for rent as well as for sale. The rental of hospital grade electric pumps may or may not be covered by your insurance company. Please check with your insurance company for details about coverage for breast pump rental. Payment for breast pump rental or the purchase of a breast pump is due upon rental/sale.
Please note that during flu season, visitation restrictions apply.