Scripps Mercy Heart Patient Sets Sail for a Brighter Future
Life-saving surgery, rehab puts Floyd McEwen back at the helm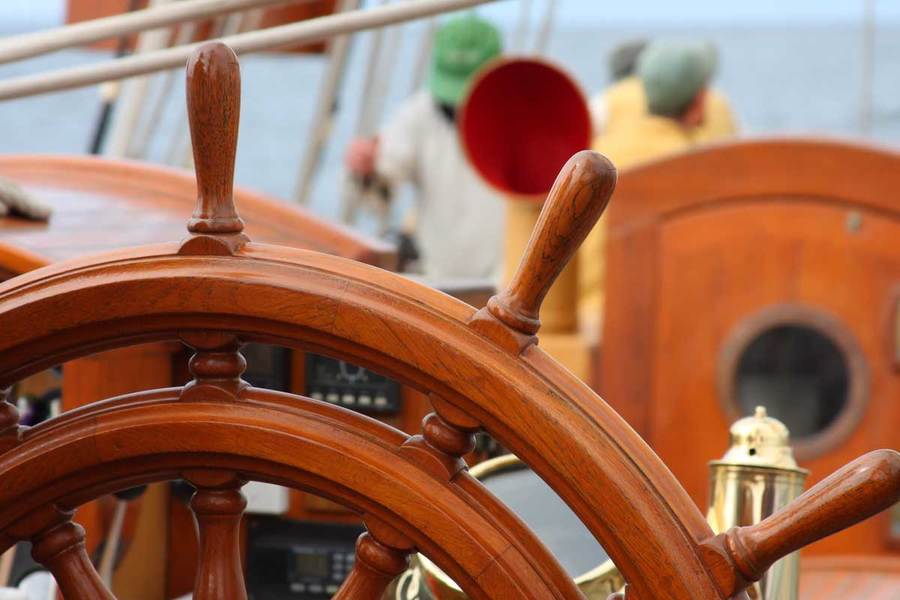 How many 84-year-olds do you know who can don full fire-fighting gear, including a heavy oxygen tank, and run 60 feet to douse flames?
Have you ever seen a heart patient jump off a pier in his clothes, remove and turn his pants into a flotation device in a few minutes' time?
In preparation for a professional mariner's certification exam, Floyd "Ed" McEwen did all this recently, thanks to life-saving surgery and rehabilitation he received at the Heart Care Center at Scripps Mercy Hospital.
Just two years ago, long-time Point Loma resident McEwen came to Mercy complaining of pain and numbness in his left arm. A stress test and angiogram revealed that McEwen, a licensed captain of sport-fishing charter boats for 30 years, had very serious blockages in five arteries in his heart.
At the recommendation of Mercy cardiologist Jeffry Mullvain, MD, McEwen immediately underwent a quintuple bypass operation.
Within six weeks of extensive open-heart surgery, however, McEwen felt great and had his physicians' blessings to return to sea — with a boatload of tourists to transport on a 500-mile whale-watching expedition. Subsequently, he had a pacemaker implanted at Scripps Mercy.
Six weeks later, McEwen and a host of considerably younger boat enthusiasts — "most of them 20, a few in the their 50's," he says — overcame rigorous physical and mental tests to achieve the prestigious Seafarer's Training Certification and Watchkeeping (STCW) license.
Along with the Scripps Mercy physicians who successfully treated him, McEwen credits his rehabilitation partner, nurse Monica Lague-Wyman, with whom he has shared his exercise routine twice weekly for two years.
Dashing off to the pool for a half-mile swim before he captains an evening cruise, and offering a saltwater fishing commentary on a local radio show, McEwen enjoys his active lifestyle.
"I love my doctors and nurses at Mercy," McEwen says. "They have never have put restrictions on me. They know how much I love to be active, and how happy a full life makes me."
Scripps Mercy's experience with complicated heart problems, and with older, sicker patients, clearly benefited McEwen.
"At Mercy, we often successfully treat patients that other heart hospitals might turn away on the basis of age or frailty," Dr. Mullvain says. "Because of the volume of seniors we treat, many with very complicated cases, our outcomes are often better."