Richard H. Vortmann Elected Chairman of Scripps Health Board of Trustees, Judy Churchill, Ph.D., joins Scripps board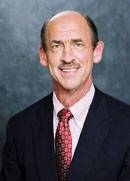 SAN DIEGO – Richard H. Vortmann, former president of National Steel and Shipbuilding Company (NASSCO), has been elected the new chairman of the Scripps Health Board of Trustees. Vortmann of La Jolla retired from NASSCO after 30 years (22 years as president) and six years as vice president of General Dynamics. General Dynamics acquired NASSCO in 1998. He most recently completed an assignment as interim president and CEO of the San Diego Regional Chamber of Commerce.
Joining Vortmann on the 16-member Scripps Health board in 2008 is clinical psychologist Judy Churchill, Ph.D.
Churchill spent her career at Scripps Mercy Hospital where she established the hospital's employee assistance program, which is now offered at all Scripps hospitals. She has published numerous articles in national journals on employee assistance programs. She retired in 2000. Churchill and her husband live in the Mission Bay area of San Diego.
"The expertise, commitment and genuine caring of the dedicated community leaders who serve on the Scripps Health Board of Trustees offer valuable guidance as we balance our business needs and challenges with our commitment to our nonprofit health care mission," said Scripps President and CEO Chris Van Gorder. "Their guidance and oversight is vitally important as Scripps sets a course for growth to meet San Diego's health care needs now and for decades to come."
ABOUT SCRIPPS HEALTH
Founded in 1924 by philanthropist Ellen Browning Scripps, Scripps Health is a $1.8 billion non-profit community health system based in San Diego, Calif. Scripps treats a half-million patients annually through the dedication of 2,600 affiliated physicians and 11,000 employees among its five acute-care hospital campuses, home health care services, and an ambulatory care network of clinics, physician offices and outpatient centers. Recognized as a leader in the prevention, diagnosis, and treatment of disease, Scripps is also at the forefront of clinical research and graduate medical education. In 2006, Scripps spent $110.5 million to upgrade its facilities and technology across the San Diego region while providing significant charity care to the community — more than $195 million in uncompensated care in 2006. Scripps Health Foundation generates $30 million annually in charitable donations to support the Scripps mission.