Scripps CEO to Speak at World Health Day on Hospital Disaster Safety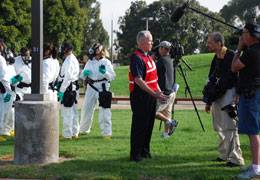 San Diego – Scripps Health President and CEO Chris Van Gorder, FACHE, will participate in a panel discussion about improving hospital safety during emergencies as part of World Health Day in Washington, D.C. April 7, 2009.
World Health Day is celebrated annually to commemorate the founding of the World Health Organization (WHO), and to focus global attention on a key health care issue. World Health Day 2009 will focus on the importance of safeguarding health care facilities as critical community assets when disaster strikes.
Golden Phoenix '08: a national first
Van Gorder will discuss Scripps' participation last summer in Golden Phoenix '08, believed to be the nation's first large-scale disaster training event to link federal, state and local government agencies with private-sector health care officials. The drill brought together participants to collaboratively practice what it really takes to secure the campus of a major hospital campus (Scripps Memorial Hospital La Jolla) during a mock bio-terrorism attack and keep it operational.
In addition to Scripps Health, other organizations taking part in Golden Phoenix '08 included U.S. Customs & Border Patrol, San Diego Police Department, San Diego Fire Department, San Diego County Emergency Medical Services, the U.S. Marine Corps, Federal Bureau of Investigations, Drug Enforcement Agency, U.S. Department of Homeland Security and many others.
Van Gorder will be joined on the World Health Day panel discussion by Milagros Kennett, a staff architect with the U.S. Federal Emergency Management Agency (FEMA) and Dr. Ruth Berggren, who worked in the infectious disease ward at New Orleans' Charity Hospital during Hurricane Katrina. Also joining the discussion will be Dr. Mirta Roses, director of the Pan American Health Organization (PAHO), a regional office of the WHO.
Founded in 1924 by philanthropist Ellen Browning Scripps, Scripps Health is a $2 billion nonprofit community health system based in San Diego, Calif. Scripps treats a half-million patients annually through the dedication of 2,600 affiliated physicians and 12,700 employees among its five acute-care hospital campuses, 19 outpatient centers and home health care services.
Recognized as a leader in the prevention, diagnosis, and treatment of disease, Scripps is also at the forefront of clinical research and graduate medical education.
Contact: Steve Carpowich
Phone: 858-678-7183