Robotic Catheter System Offers Greater Precision in Treating Arrhythmias
One more reason to choose Scripps for heart care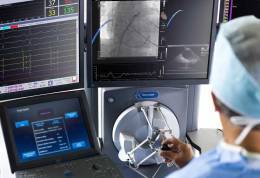 Scripps Health now offers the innovative first generation Sensei Robotic Catheter System, a state-of-the-art tool used by cardiologists at Scripps Memorial Hospital La Jolla and Scripps Green Hospital.
This system is designed to give cardiologists accurate and stable control of catheter movement during complex cardiac procedures performed to diagnose patients suffering from abnormal heart rhythms or arrhythmias.
Benefits of the robotic catheter system
The robotic system offers:
Greater precision and accuracy for better mapping, and more exact targeting of abnormal tissue
Enhanced access to even the most difficult-to-reach heart tissue
Reduced operator fatigue by seating the physician at the control console
Increased stability
Increased patient safety due to reduced procedure time and exposure to radiation
About minimally-invasive treatment of arrhythmias
One method of treating arrhythmias is to destroy the cells that are causing the heart to beat irregularly using a catheter placed in specific locations inside the heart. This is called catheter ablation. Radiofrequency energy is the most common energy source used to eliminate the abnormal heart beats.
As a precursor to treating the arrhythmia, the physician creates an electrical road map of the inside of the heart to help guide the placement of the ablation catheter. This road map is created by placing a catheter that records electrical signals from various locations in the heart. This catheter is called a mapping catheter.
The most important element in the mapping and ablation phase is to place the catheters in the correct location of the heart so that an accurate map is created and only the abnormal tissue is destroyed.
For more information about cardiac services or for a physician referral, please call 1-800-SCRIPPS 800-727-4777).
You can also read about:
See the robotic catheter system in action: