Hospital Cafeteria Turns "Top Chef"
Executive Chef from L'Auberge Teams Up with Staff for Special Holiday Meal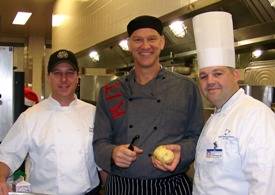 Executive Chef from L'Auberge Teams Up with Staff for Special Holiday Meal
Move aside green Jell-O and Salisbury steak – the hospital cafeteria at Scripps Memorial Hospital La Jolla is going gourmet next Tuesday night.
Paul McCabe, executive chef at L'Auberge Del Mar, is teaming up with the hospital kitchen staff to prepare a gourmet holiday meal for the medical executive committee meeting on Tuesday, Dec. 15, at 5:30 p.m. Chef Paul will arrive at 10 a.m. to begin preparation of the meal in the hospital's kitchen.
The menu for the dinner includes:
Hiramasa crudo (sashimi), shaved fennel salad, smoked duck cracklings, and sake steelhead roe
Colorado lamb loin and seared scallops, goat cheese gratin, Swiss chard, smoked cabernet reduction
Warm chocolate volcano cake, cappuccino gelato
The partnership is the brainchild of the hospital's chief of staff John Spinosa, MD. Dr. Spinosa will be working alongside Chef Paul and James Johnson, hospital chef and kitchen supervisor, and other select hospital kitchen staff to prepare the gourmet meal for the 22 physician leaders.
"I wanted to thank the food services department for all of their hard work and dedication by offering this opportunity to work alongside Chef Paul," says Dr. Spinosa. "It is my hope that this unique chance to work with one of San Diego's top culinary minds will be a fun, inspirational and educational experience for the hospital's kitchen staff."
As chief of staff, Dr. Spinosa leads the medical executive committee (MEC) which is comprised of 22 physician leaders. A self-proclaimed "foodie", Spinosa has taken it upon himself to add a gourmet twist to the MEC meetings during his two year term.
Once a quarter, a different physician on the committee has volunteered to work with the hospital cafeteria to produce a special meal for the group. Spanish paella, an all-American picnic and Italian feasts are just a few of the meals that have been produced. According to Dr. Spinosa, the "friendly competition" among the physicians has promoted attendance at the meetings and also resulted in a great partnership with the food services staff.
"This has helped build relationships with the physicians and has been a tremendous morale booster for our staff," says Laurie Gordon, manager of food services at Scripps La Jolla. "Through the work with Dr. Spinosa and the other doctors, the food services staff 'stand up a little straighter' and take more pride in the dishes they produce on a daily basis."
As a reward for all of their hard work, the dozen hospital staff members who helped out with the MEC dinner will soon be treated to a special dinner of their own at Chef Paul's KITCHEN 1540 at L'Auberge Del Mar.
About Scripps Memorial Hospital La Jolla
Established in 1924 by Ellen Browning Scripps, Scripps Memorial Hospital La Jolla has been one of Southern California's premier medical centers for more than 80 years. Scripps Memorial Hospital La Jolla offers a wide range of clinical, surgical and specialty services including a Level II Trauma Center and 24-hour emergency services, intensive care, interventional cardiology and radiology, radiation oncology, cardiothoracic and orthopedic services, neurology, bariatric surgery and women's health services.
The hospital is consistently recognized for quality patient care and was the first in San Diego to be designated a Magnet Hospital by the American Nursing Association for excellence in patient care. More information can be found at www.scripps.org.
As Executive Chef for the resort and KITCHEN 1540 at L'Auberge Del Mar, Chef Paul brings a wealth of experience to the table. An Arizona native, McCabe began his career as an apprentice for Chef Michel Blanchet of L'Ermitage restaurant in Los Angeles and the rest, as they say, is history.
He has won a number of awards, both locally and internationally, the most recent of which include the Golden Sceptre & Golden Bacchus awards from the Southern California Restaurant Writers, the Wine Spectator Magazine Award of Excellence and Best Hotel Dining by San Diego City Search. Chef Paul is also a frequent guest chef at the James Beard House in New York. Chef Paul has been the Executive Chef at L'Auberge Del Mar since 2004.
Media Contact: Lisa Ohmstede
Phone: 858-626-7142
E-mail: ohmstede.lisa@scrippshealth.org