The Power of Love Helps 90-Year-Old Man Survive Cancer
Retired Navy chief overcomes bladder cancer and broken hip to fulfill a loving promise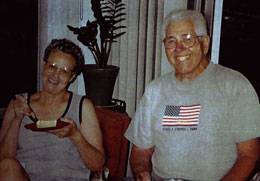 In 1998, John Sachs, a retired Navy chief, experienced love at first sight when he saw a woman named Beverly walk into a little family restaurant where he was dining.
When she sat near him, John, then 79, was taken aback, his heart a-quiver. A widow, John had been married nearly 60 years to his first wife, so this was the first time a woman caught his heart and eye like Beverly did.
"I kept leaning back in my chair to catch a glimpse of her," John says. "She was just so beautiful that I couldn't keep my heart from racing. I knew I had to talk to her and get her number."
So he pulled together enough courage and got her phone number that day. After two romantic dates, John won Beverly's heart. The day he proposed, he got down onto one knee and promised her 20 years of marriage. They married Valentine's Day 1999.
Radiation and chemotherapy for bladder cancer
More than a decade later, John, at 90, was diagnosed with Stage II bladder cancer. As the couple sat in the doctor's office at Scripps Clinic Torrey Pines in May 2009, he began to ponder the promise he made to his wife on the day he proposed.
"I wasn't about to let this disease stand in the way of the vow I made to her," he says. "When I make a promise, I keep it."
Scripps Clinic urologist, Dr. Jeffrey Zeitung, found a walnut-sized tumor in John's bladder. Because of his age, John only had one treatment option: a transurethral resection of his bladder that included radiation and chemotherapy.
"I was in wonderful shape despite the tumor," says John, an active walker who can still do push-ups. "I was determined to get well for Beverly."
Cancer treatment, plus rehabilitation for a broken hip
In June, John underwent surgery and began seven weeks of radiation and chemotherapy. His radiation oncologist at Scripps Clinic, Dr. Ray Lin, guided John and his wife through his cancer therapy.
Unfortunately, an accident complicated his recovery. During his first week of chemotherapy treatment, John fell outside a convenience store and broke his hip.
His physicians feared that John would not recuperate from this injury successfully because of his age. They recommended he recover at a rehabilitation center while he continued his cancer treatment.
"Every day, Scripps would pick me up from the center and take me to my appointment at the clinic and then drive me back," John says. "The radiation therapy staff went above and beyond for me. They would bring me coffee, tell me jokes and I'd impress them with my push-ups off of the radiation table."
Personal resilience and commitment to a loving promise
After rehabilitation and rest, John recovered. Soon he was back to driving and taking daily walks with his adoring wife.
"I was very impressed with John's tenacity to get better for his wife. He has so much love for her and she is truly dedicated to him," Dr. Lin says. "Given his age and particularly his cracked hip, I feared he would not improve. But you can tell his love for Beverly gave him the strength to beat the cancer."
With the cancer in remission, John says he is forever grateful to his doctors and the Scripps staff for all they did to keep his promise to his wife that he would give her 20 years when he married her at 80.
"As we start our 11th year of marriage, I still love telling people how we met and our first two dates," John says. "I love to see their faces light up and the smile that comes to their faces. I thank God every time I think of meeting Beverly and the strength she gave me to fight my cancer. She truly is the wind beneath my wings."