Scripps Mercy Hospital Appoints Associate Vice President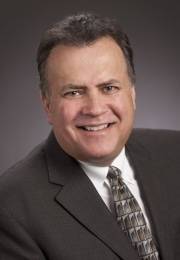 Scripps Mercy Hospital is pleased to announce the appointment of George Pérez, FACHE, as the associate vice president of its Chula Vista campus. Beginning March 29, Pérez will have administrative oversight of the campus' facilities, support services and outpatient functions, as well as business development and performance improvement. Pérez also will participate in long- and short-range planning functions, as well as system-wide strategic planning activities.
Pérez brings several years of experience in health care administration to his new role ― most recently as an independent health care consultant. He also served as president and CEO of St. Joseph's Health System in Sonoma County, where he oversaw Santa Rosa Memorial Hospital and Regional Trauma Center, Petaluma Hospital, home health, hospice services and community outreach services. His work with St. Joseph's Health System also included his position as president and CEO of St. Mary Medical Center in Apple Valley, CA. Prior to that role, he worked for Sun Health ― a not-for-profit health care organization based in Sun City, AZ ― serving as the executive vice president and CEO of the 355-bed Walter O. Boswell Memorial Hospital.
"The level of expertise Mr. Pérez brings to Scripps Mercy will serve him well in his new position," said Tom Gammiere, FACHE, chief executive of Scripps Mercy Hospital. "I am confident that his experience will afford him, our organization and ― most importantly ― our community great success."
George received his bachelor's degree from UC Berkeley, where he also earned a master's degree with an emphasis in hospital administration. He is a fellow of the American College of Healthcare Executives and a founding board member of the Association of Hispanic Healthcare Executives.
Established in 1890 by the Sisters of Mercy, Scripps Mercy Hospital serves the San Diego and Chula Vista communities. With 700 licensed beds, more than 3,000 employees and 1,200 physicians, Scripps Mercy Hospital is San Diego's longest established and only Catholic hospital. With two campuses, Scripps Mercy Hospital is the largest hospital in San Diego County and one of the 10 largest in California.